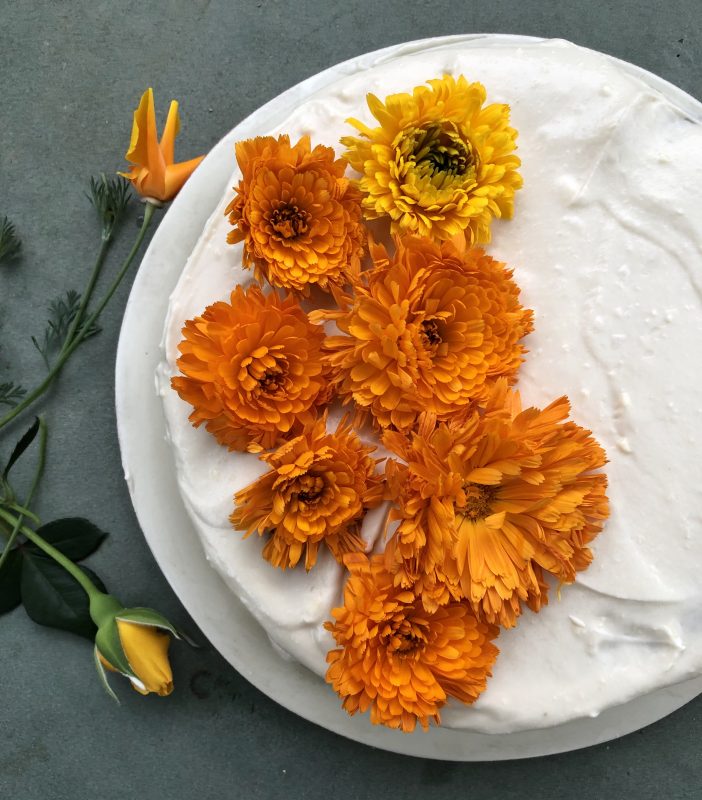 Ok, ok! Yes. I know I haven't posted in a year and 2 months. We'll get to that later. For now, I had to get this recipe out to you TODAY! The good news is, you can totally make this cake on any old day and not just for Easter. Phew. Still, I had to make sure you had it, just in case. More to come!
Makes 2 9″ layers
For the cake:
Yes, first, you will need to shred some carrots. This is tedious but worth it! I just used a peeler and even though it left me with rather large, long shreds, they still worked and baked down as they cooked in the cake. If you want to use a box grater, more power to you! Even better if you can con one of your kids into helping with the old, "c'mon, it will be fun!"
Set the carrots aside and then combine the following in the bowl of a stand mixer
2 cups sugar
1 tsp salt
2 1/2 tsp cinnamon
1/4 tsp nutmeg
1 cup oil
1 tsp vanilla
4 eggs
Mix until combined well, then add in the dry ingredients…
2 cups of flour
2 tsp baking soda
Mix again until well combined. Then, stir in the shredded carrots and hand mix until everything is well distributed throughout.
Pour into your prepared cakes pans and bake for about 35 minutes or until a knife or toothpick comes out clean. Let cool in pans for 15 mins and then remove to cool before icing.
Cream Cheese Frosting (AKA the reason we are here)
8 oz. cream cheese
1 stick unsalted butter
dash vanilla
3 cups powdered sugger
1/4-1/2 cup milk
Mix the cream cheese, butter, and vanilla together in a stand mix until light and fluffy. (2 minutes) Add the powdered sugar 1 cup at at a time and blend well after each addition. Add the milk until you reach the desired consistency for your frosting. Chill for 15 mins if you need it to firm up a bit.
Once the cakes are cool, plop some frosting between your 2 layers and cover the cake with the rest of the frosting. I think a piece of this is calling my name for breakfast right now. Trust me, this one is a keeper!