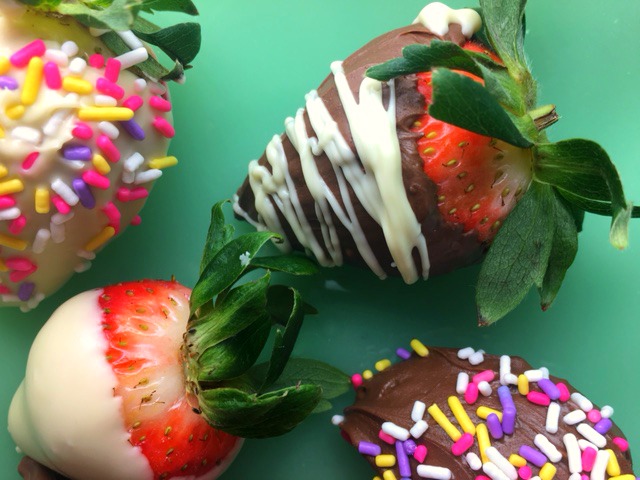 Making chocolate covered strawberries is definitely a labor of love, but the steps are actually really simple, and the end result is so worth it. Your valentine will think you went all out, but just 2 ingredients stand between you and this indulgent treat. Strawberries and chocolate…that's it! Oh, and some sprinkles, of course. Whether you are giving these away or saving them for a quiet night at home, go ahead and give them a try!
I know there is some fear around melting chocolate…especially in…a microwave (gasp). However, you needn't fear! As long as you use good chocolate, and melt it in short intervals, you really will be ok! Of course, you can use the double boiler method, but why bother if the microwave method works just as well? I like to use Ghirardelli milk chocolate and bittersweet chocolate chips. For the white chocolate, I use Ghirardelli's white baking bar. This baking bar melts best (thanks to Deb from Smitten Kitchen for doing all of the research so I didn't have to!) She says this melts better than the white chips, and obviously I believe her!
Another important note; After washing your strawberries, they must be completely dry before you attempt to cover them with the chocolate, so do take the time to make sure they are. I wipe mine down with a paper towel and let them come to room temperature before coating.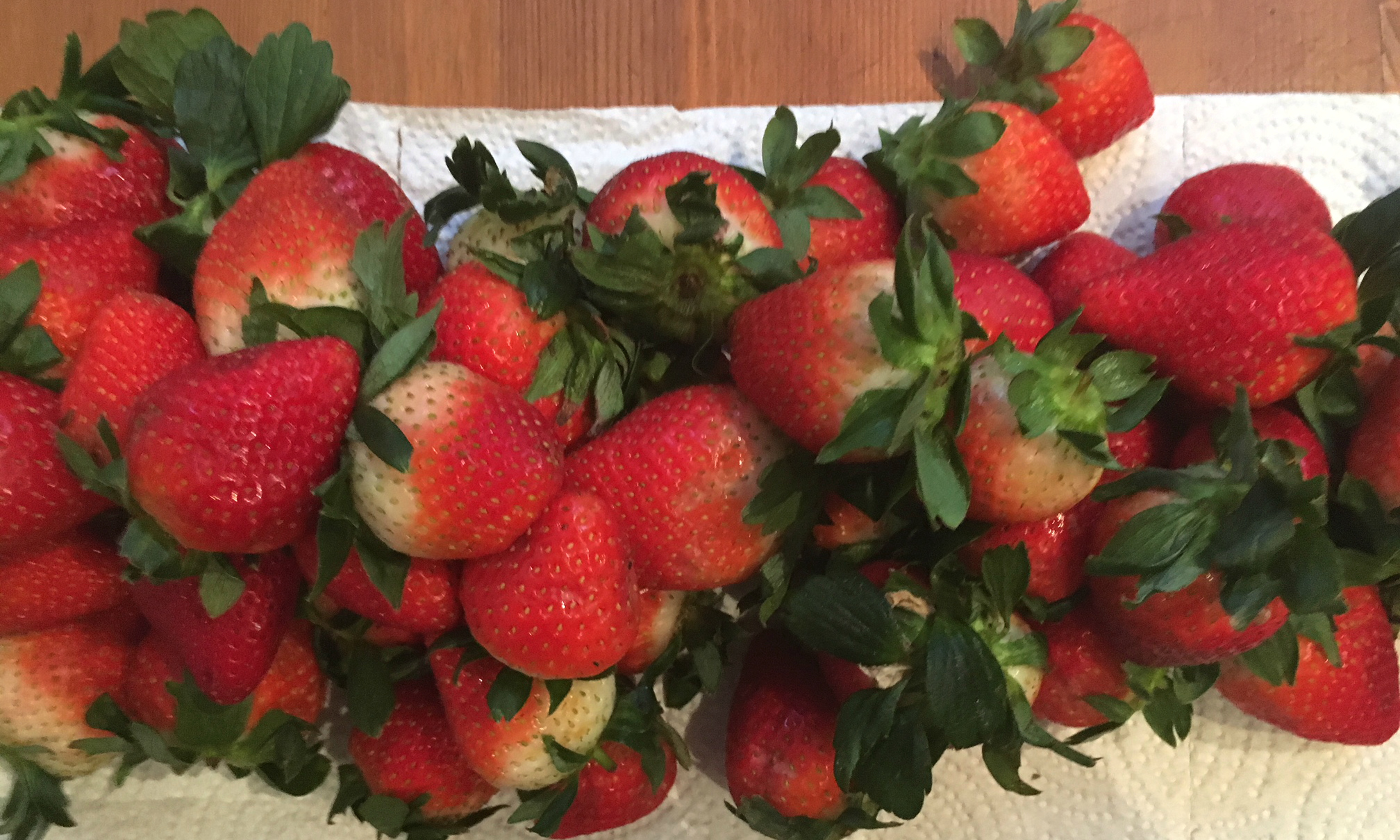 Put about 1 cup of chocolate chips/pieces into a microwave safe bowl. Melt for 30 seconds and then stir. There might not be much melting yet. That's ok! Return the bowl to the microwave for another 30 seconds. Remove and stir again. You should see some melting now and the stirring might be enough to get the chocolate nice and silky. If needed, put it in for another 10-20 seconds and then stir again to melt any remaining chunks. *Chocolate can burn very quickly, which is why it is so important to melt it slowly. Once you've gone too far, the chocolate hardens and you wont be able to make it melty again.
To start coating, just hold the berries by the leaves and dip them, one at a time, into your bowl of melted chocolate. You can get super creative with your toppings, adding contrasting chocolate drizzles, and using sprinkles, nuts, coconut, or whatever you can think of. Once they are covered, put the chocolate strawberries on a parchment covered cookie sheet and pop them in the fridge to set. These are best eaten the same day, but they rarely last longer than that so it shouldn't be an issue!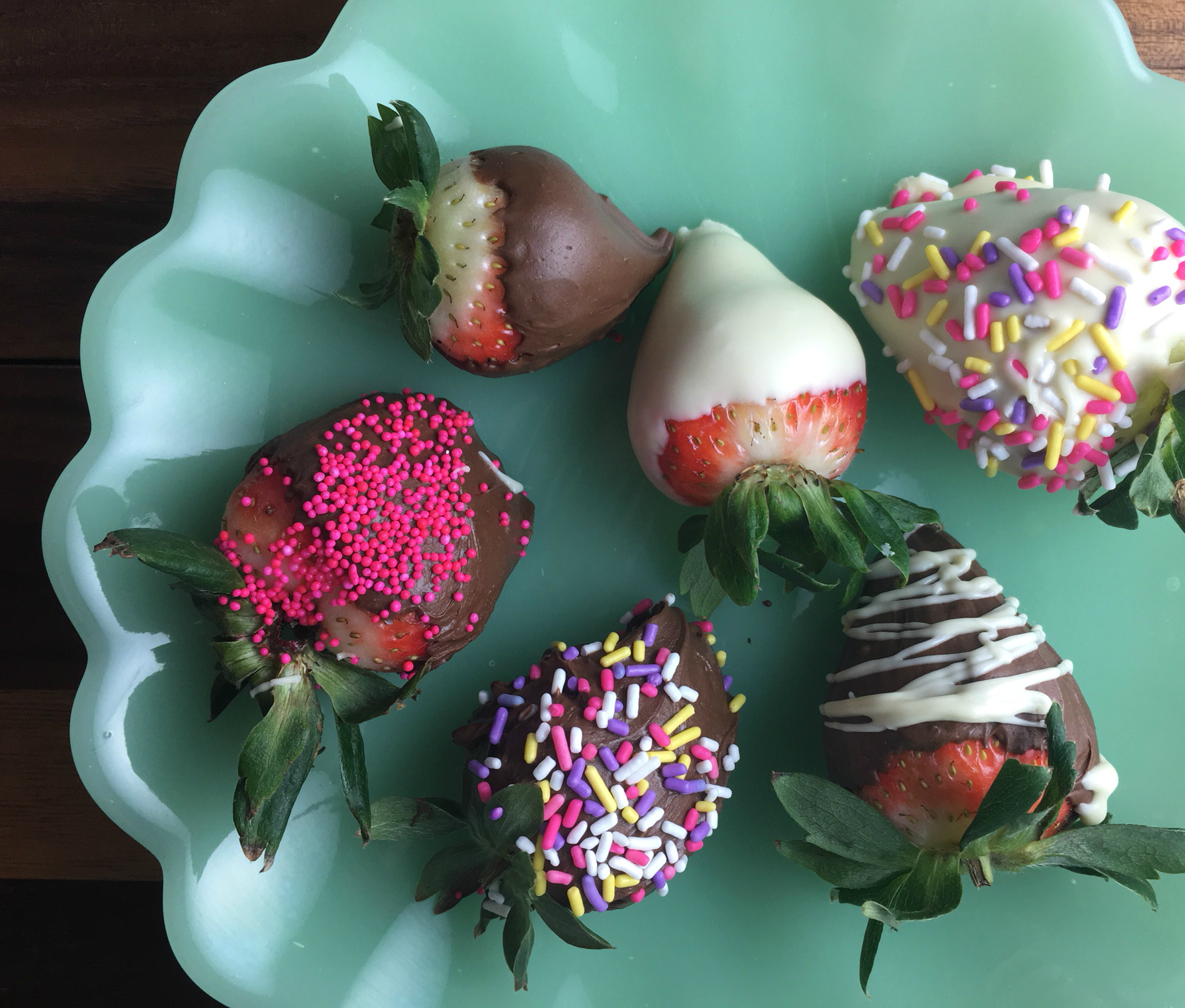 Go forth and spread chocolate! and love! (and these chocolate covered strawberries!)