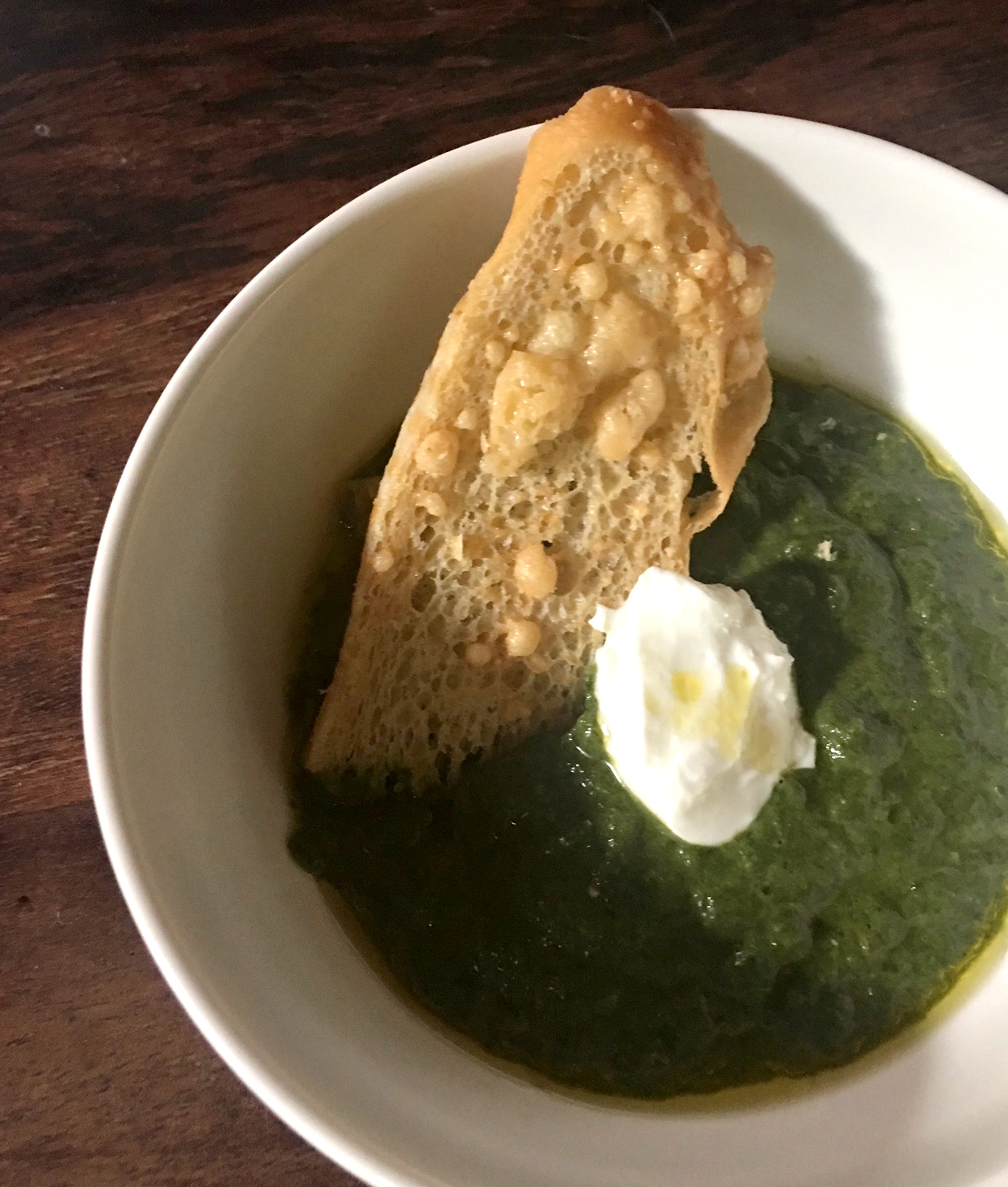 New year…who this?! Why, yes, it's me! Back to blogging and starting off the year with a renewed desire to eat healthy, detoxifying foods…for now, at least! I especially like ones that taste like this! This is a yummy, blended green soup that is vegetarian, and can easily be made vegan, if you don't add any yogurt.
I actually started experimenting with veggie soups just before the holidays, but figured we might all appreciate it even more after the December eating spree came to an end. While we settle into January, a bowl of warm greens, with a touch of turmeric and ginger, might be just the thing the doctor ordered to finally kick that cold that's been hanging around your house since Thanksgiving. Plus, I got an awesome immersion blender from my husband for Christmas, (yes that's what keeps the love alive, people!) so I needed a recipe to test it on!  You can also easily make this in a standard blender or food processor, but the immersion blender is great for quickly pureeing leafy veggies like kale and swiss chard, so you can get a smooth soup. This makes enough for 2 if you're having a big bowl, but feel free to double it up for a crowd or if you want to have enough for the whole week.
serves 2-4
2Tbsp olive oil (plus more for drizzling)
1/2 onion  (chopped)
2 whole garlic cloves (peeled)
pinch of sea salt
2Tbsp plus 1 cup water
5 oz mixed greens (chopped)
1 cup frozen or fresh chopped spinach
Pinch of pepper
pinch of grated ginger (optional)
pinch of turmeric (optional)
2 tsp agave,honey, or sugar
2 Tbsp 2% greek yogurt (optional)
First, heat the olive oil in a large skillet or pot. Add the onions, garlic cloves, and salt, and cook until caramelized, about 5 minutes, or until the onions begin to brown and become translucent. Next, add 2 Tbsp of water and cover. Allow the onions to simmer for about 10-15 minutes, stirring often. This will allow the onion and garlic to break down and will extract as much flavor as possible for your soup.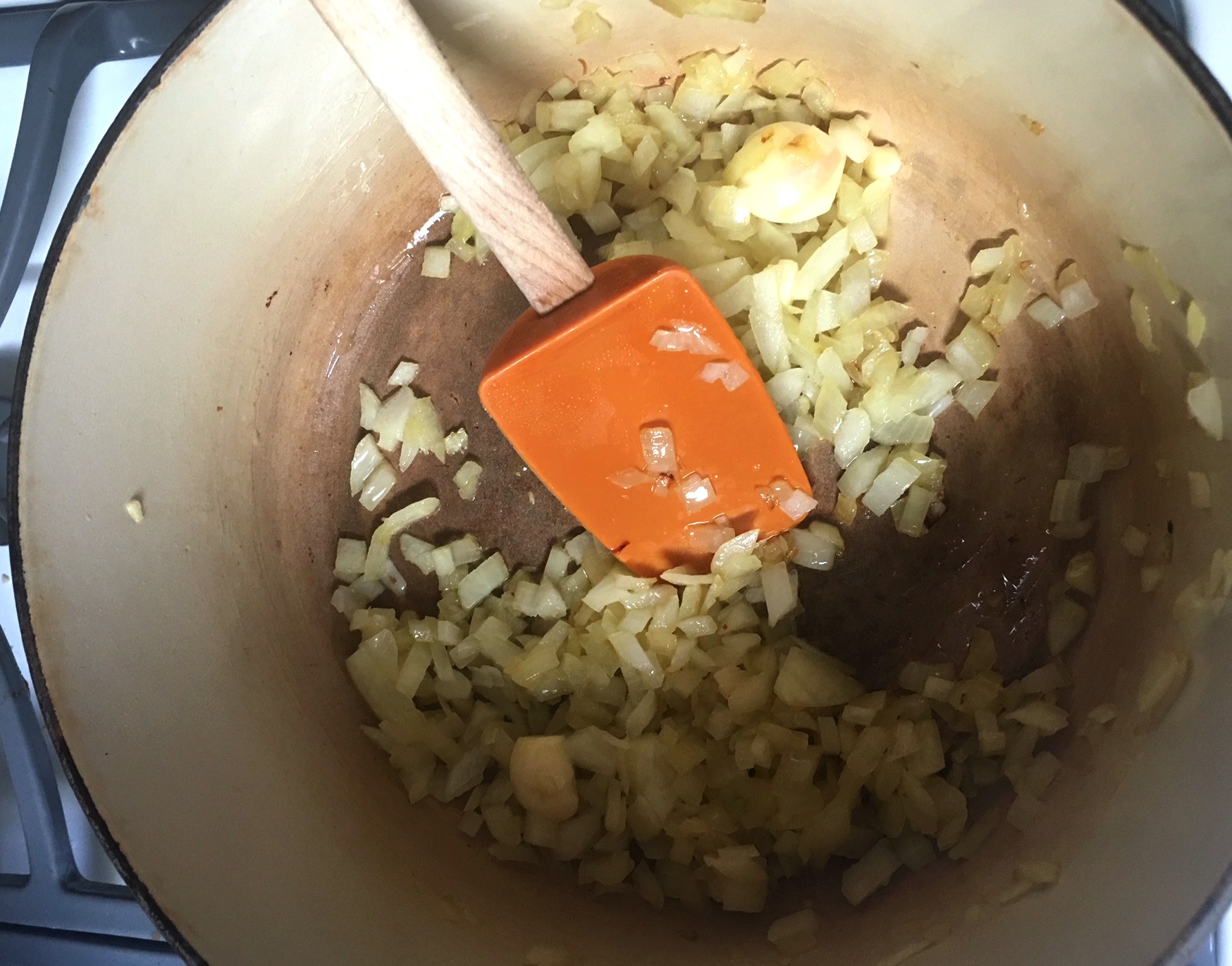 Next, take your chopped greens and spinach and add them to the onions. I used a 5 oz. pack of "super greens" that contained, kale, swiss chard, and spinach. You can certainly use just one type of greens, but I was trying to get as many vitamins as I could handle in this soup. Give that a stir and add 1 cup of water. Add another pinch of salt and pepper. (I used white pepper, but you can use standard black pepper, or cayenne for a bigger kick) I also like to add some freshly grated ginger, and a pinch or two of turmeric. Hey, it can't hurt!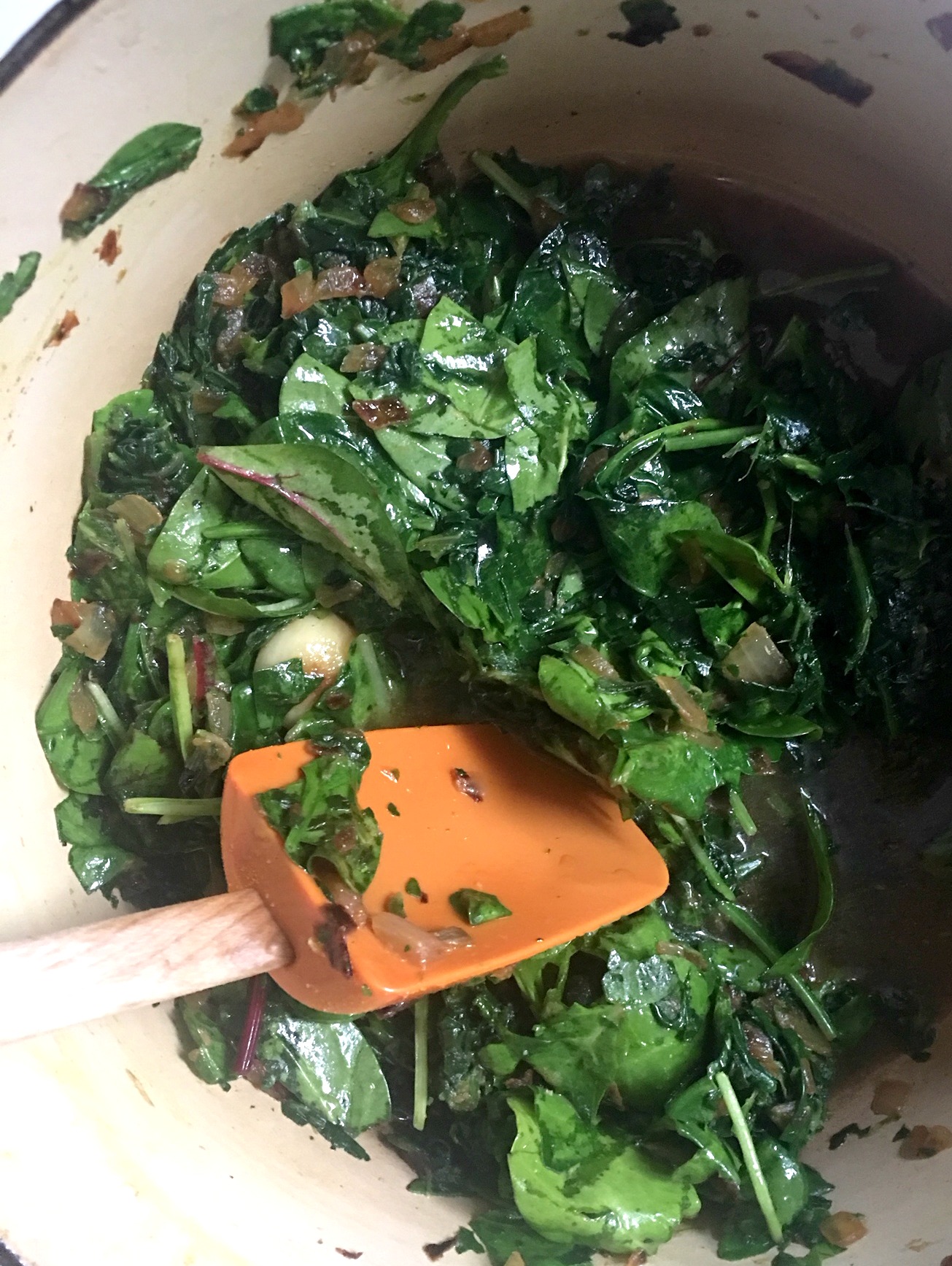 Let this simmer on low for another 20 minutes, stirring occasionally. Then, add 2tsp of agave, honey or sugar and mix it in to the soup, allowing it to cook for 5 more minutes. Maybe you're braver than I am, but I needed this sweet addition to combat the bitterness of the greens. The sugar is not noticeable, but it does take that sharpness of the greens away. Finally, add 2 Tbsp of greek yogurt to add a little creaminess to the soup. Again , feel free to leave it out if you are a hard core green eater or if you want to keep it vegan.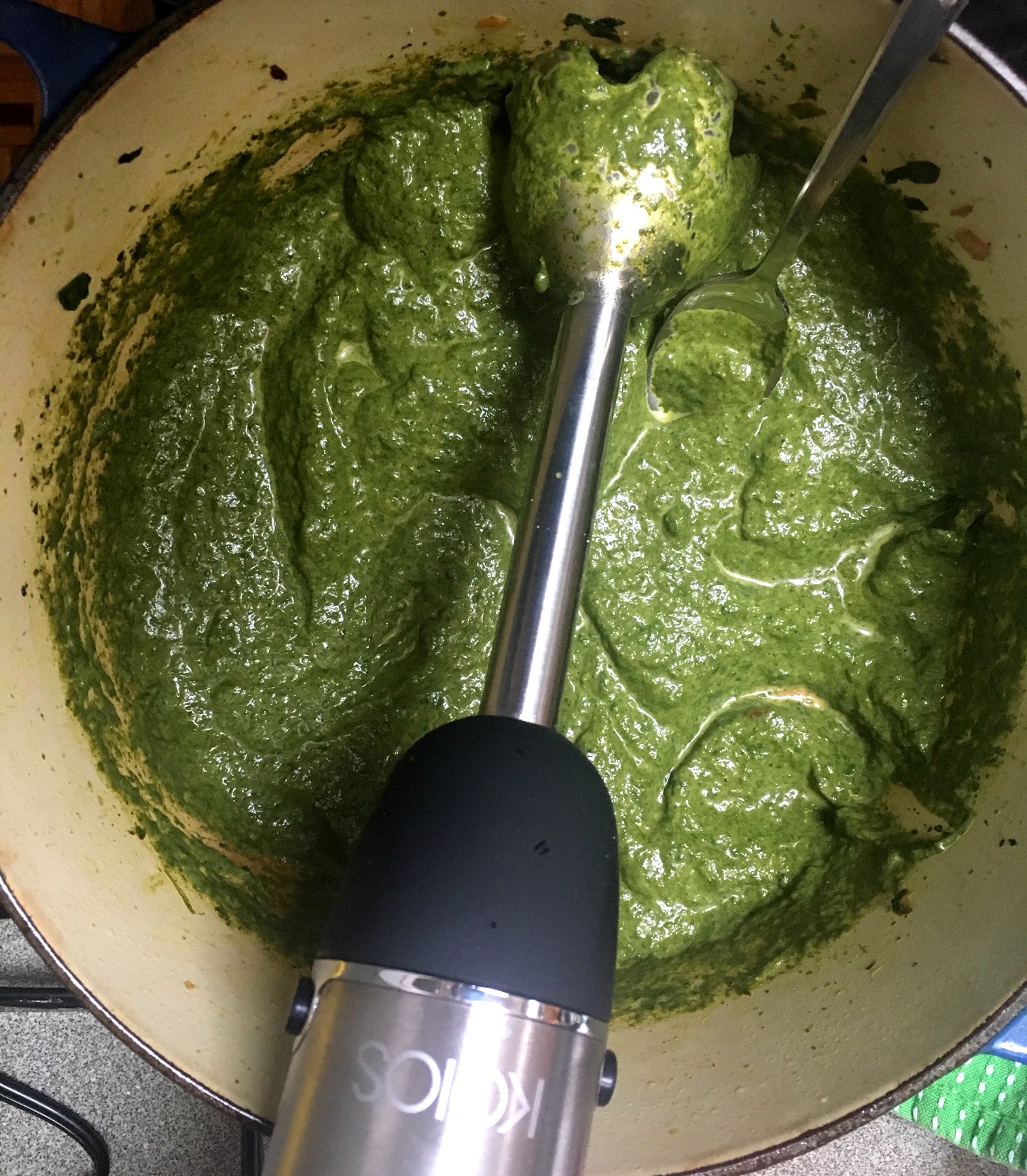 Finally, the fun part! Blend it all up using your immersion blender, regular blender, or food processor (you might have to do this in batches depending on the size of what you're working with). You don't want any chunks, so just keep on blending until it's a purée of beautiful bright greens. Go crazy and finish it off with a small drizzle of olive oil and plop another small dollop of greek yogurt on top. Oh, and maybe a little crispy parmesan cracker to dip in it. I mean, I'm not a complete monster…it's all about balance, remember?
Go green (soup)! Your body and belly will thank you!