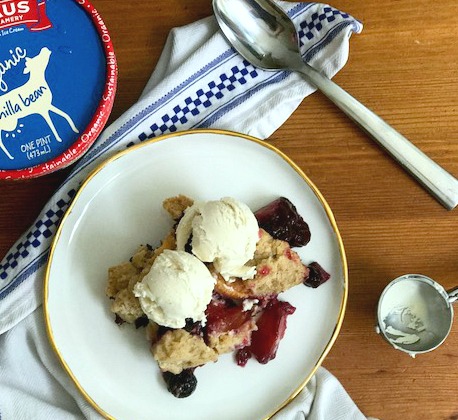 Fruit crisps and crumbles are some of the simplest desserts to make, and this blueberry peach crumble fits the bill. Not only can you make this with endless permutations of fruit combos that you happen to have on hand, but you can pretty much throw the ingredients together and you will have a delicious result. (READ: you do not have to be that careful when making this… which allows for sipping rosé while chatting with your guests in the kitchen as you throw this together…then, when dessert is served, it seems like you've kind of got it together! shhhh…it will be our little secret.)
This blueberry peach version showcases one of my favorite fruit combos, and was a great way to use up local, in-season, organic fruit that would otherwise go bad in my fridge. This can be made ahead and reheated, and it travels well to take to a friend's. You can even decrease the sugar and butter amounts here if you wanted to (for some crazy reason), and  you'd still end up with something that tastes good. Serve this (and all crumbles!) with ice cream and/or whipped cream, and you have what I consider to be the perfect summer desert.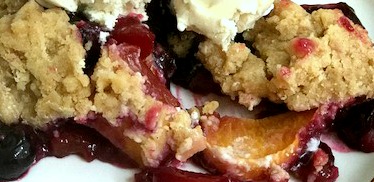 Preheat the oven to 350 degrees and grease a square 9″ baking dish or pie plate.
For the fruit filling
3-4 small peaches sliced
1 half pint blueberries
1 Tbsp brown sugar
2 Tbsp flour
1/4  cup lemon (or lime) juice or juice from a fresh squeezed small lemon
Toss the fruit with the sugar, flour, and lemon juice until it is coated well. Pour the fruit mixture into your prepared dish.
Crumble topping
4 tbsp flour
2 tbsp brown sugar
2 tbsp white sugar
pinch cinnamon
1/2 cup (8Tbsp) COLD unsalted butter (cut into large dice size pieces)
Combine the crumble ingredients and mix it together with your hands to make large, messy lumps of crumble topping. The butter should be very cold so that it stays kind of chunky, and you should try not to handle it so much that it starts to get all melty in your hands. Sprinkle the crumble lumps around the top of the fruit. Again, the topping can and should be messy and clumpy. That's the beauty of a crumble!
Bake for 30 minutes until crumble topping is golden brown and fruit is bubbly and gooey.
It's pretty difficult to mess this up, so just go for it!