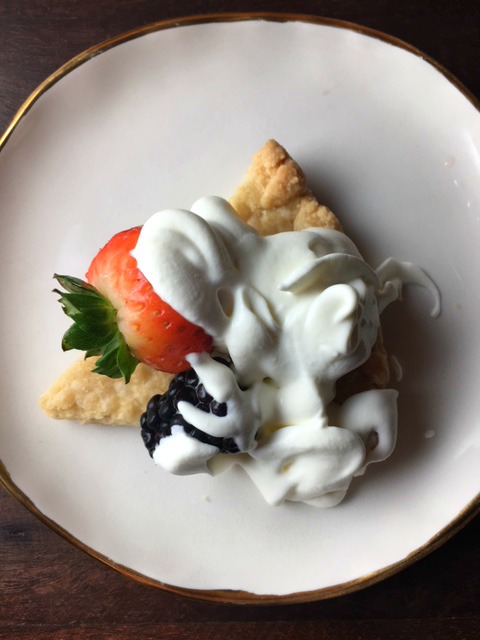 It's a little hard to see in the picture above, but yes, there's shortbread under there! So the holidays are over, but that doesn't mean that the cookie baking/eating has to end! Shortbread is one of my favorite cookies of all time. So easy to throw together with just a few ingredients, and it's all at once buttery, chewy, and crunchy. Shortbread cookies stay fresh for a week or so, and go well with a variety of additions like ice cream, melted chocolate, berries, and whipped cream. I know it's hard getting back in the swing of things after the holidays, but experts agree, a steady intake of cookies just might help.
Ingredients
1 stick (1/2 cup) good (european) salted butter
1/2 cup confectioners sugar
1tsp vanilla
*optional 1/8 tsp of almond extract
1 cup all purpose flour
*Feel free to double the recipe to make 2 cake pans of cookies.
Lightly grease and flour a round 9″ cake pans. Preheat your oven to 300 degrees. In stand mixer, beat together the butter, sugar, and vanilla (plus almond extract if you used any) Next, add the flour and mix until combined. The mixture will be pretty dry and thats ok! Just beat it until it comes together. It will still be crumbly, and thats what you want.
Press the mixture down into your prepared pan so its about 1/2″ thick.  Prick the surface all over with a fork and bake for about 35 minutes until lightly golden (a little darker around the edges is ok). When the shortbread is finished, immediately pop it out of the pan and use a pizza cutter or knife to cut it into 12 wedges.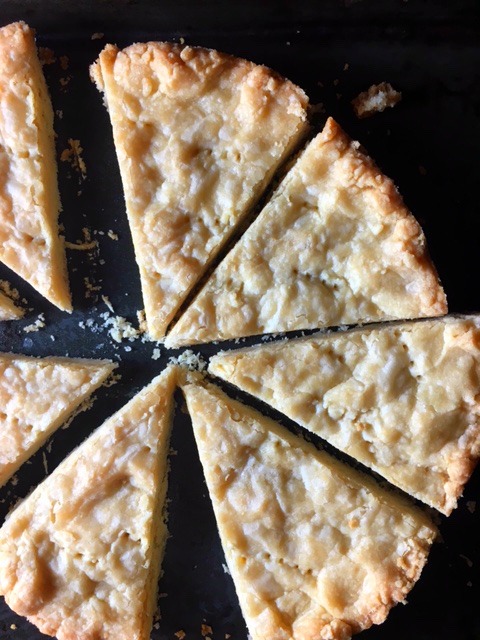 Eat alone as a cookie or with some fresh berries and cream. Shortbread is just too simple to make to not have some lying around for a treat this weekend.