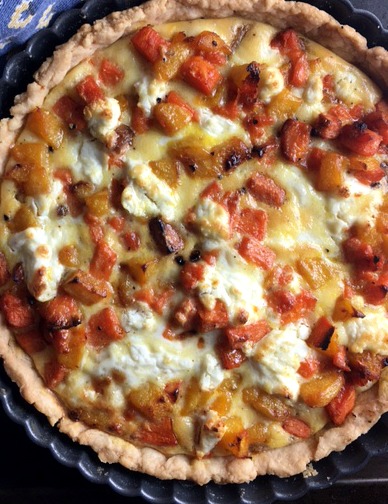 There's no better time than now to find some peace in simple pleasures.  For me, it was spending time yesterday baking this warm winter vegetable tart. I love tarts and quiches because they are surprisingly simple, increase the 'fancy' factor of any spread, and are unbelievably forgiving. You can be pretty loose with the amount of eggs, cream, and cheese, and you will still get a delicious result. A vegetable tart like this also provides a great opportunity to use produce that might otherwise be going bad in the fridge. You can easily add a multitude of veggies and different types of cheese to suit your tastes. Since I had a sweet potato and butternut squash begging to be used, I decide to turn them into this savory, roasted, winter vegetable tart.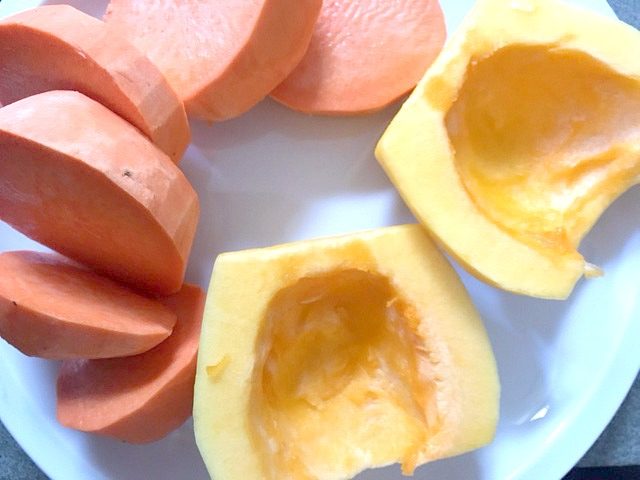 I seriously love Yotam Ottolenghi's way with vegetables, and it was this recipe that inspired me to make this tart. Also, my daughter declared (for like the 7th time) that she is now a vegetarian, so I figured I'd better brush up on my veggie centric meals.
Now, this does take some prep, but like I said, I embraced slowing down and making something a little more time and labor intensive. Of course, the entire tart was gone in about 15 minutes, but that's what it's for, right?
So you don't have to make your own crust, but its exponentially better when you do. I am a bit of a snob when it comes to homemade crust, so I used this recipe (Basic Short Crust Pastry) to make a short-crust pastry dough, and yes, it requires chilling and blind baking, but to me it's so worth it for a melt in your mouth, flaky crust.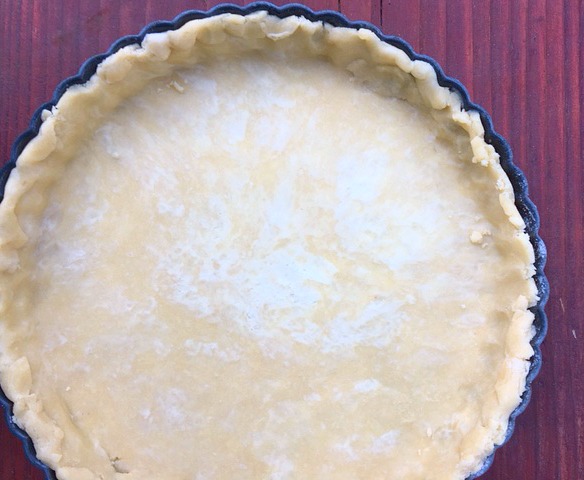 While your crust is chilling and/or pre-baking, you'll have lots of time to dice and roast your vegetables. Ok, so here we go.
Ingredients
1 small sweet potato
1 small butternut squash (or half of a large one)
olive oil
honey
half a small onion (sliced)
1/8 tsp thyme
1 bay leaf
1 Tbsp salted butter
1/2 cup heavy cream
1 large egg
2-4 Tbsp soft goat cheese
salt and pepper to taste
To roast the veggies, dice them small, into about 1/2 inch cubes. You want about a cup of sweet potato and a cup of squash once they're cut up. You might be left with some extra veggies when you fill the tart shell, but you can always throw them in a salad, or use them for a quick side dish.
Throw the diced veggies in a baking pan and drizzle with olive oil and sprinkle with salt. Roast at 350 for about 20 minutes, stirring occasionally. After 20 minutes drizzle a little honey over the vegetables and sprinkle with a little more salt. Let this roast for about 20-30 more minutes. Broil for 5-10 minutes at the end to get some crispy edges on the veggies. Watch carefully! Set aside.
Next, melt 1 Tbsp butter over medium high heat and sauté the sliced onion with the thyme and bay leaf until caramelized. Remove the by leaf and set aside.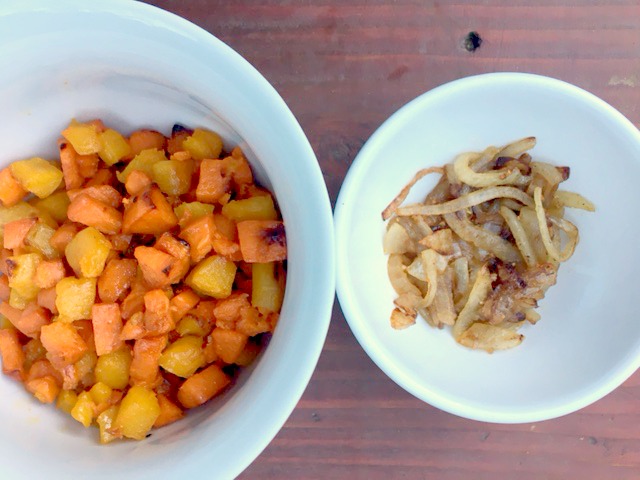 When your crust has cooled a little, spread the onion slices out in the bottom of the crust. Add the squash and sweet potato. Add 5-10 dollops of goat cheese around the tart, depending on your taste.

In a small bowl, whisk the egg, cream, and some salt and pepper together. Pour this mixture into to the tart shell and fill it until just the tops of the veggies show through.
Bake at 375 for 30-35 minutes, or until the middle is set and the top is golden brown.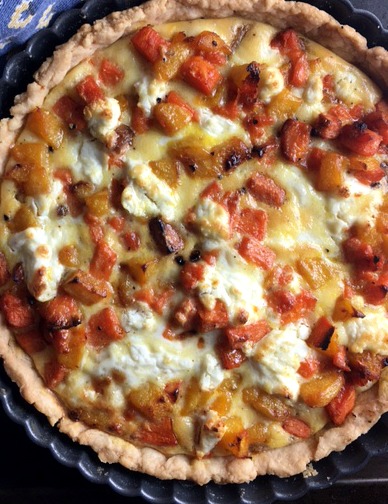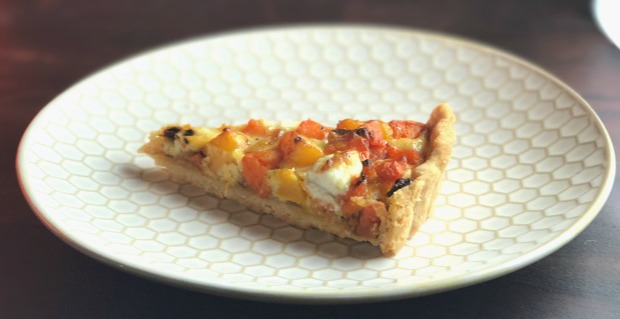 Trust me. This is worth the work! This tart makes an awesome brunch addition, or a welcoming appetizer with a glass of wine.