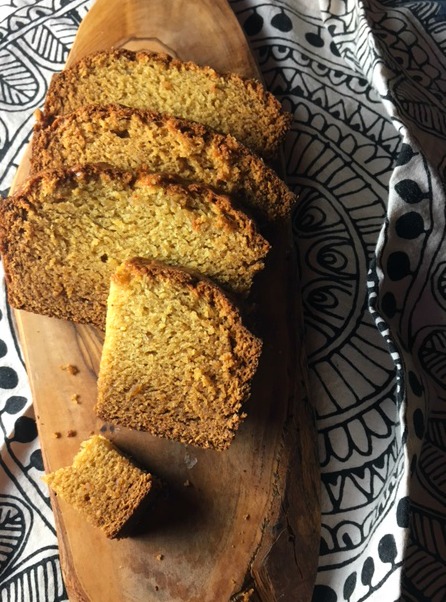 If you asked me 4 months ago what a persimmon was, I don't think I could have told you. Here in LA, persimmons are everywhere during fall and winter, and they're delicious! After sampling some at the farmers market, I decided to pick up a few, not really knowing what I would (or should) do with them. As I'm sure you've heard, the farmers markets here are no joke, and that has been an amazing part of moving here. I am still getting used to having all of these fruits and vegetables at my fingertips, and I foolishly passed the persimmons many times before actually buying them.
So, there are few different types and I honestly didn't know what I was buying. I chose ones that looked a lot like tomatoes, with a deep red-orange color.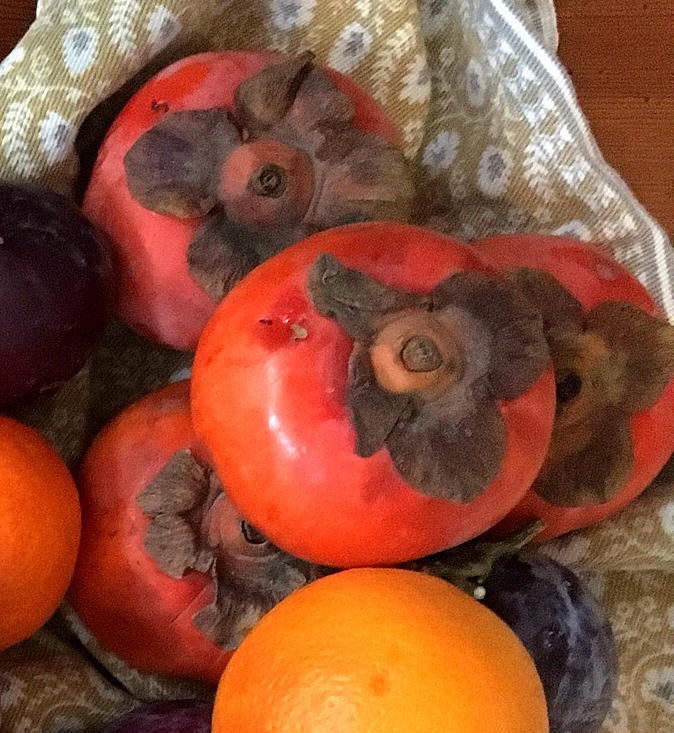 These, I think, are Fuyu persimmons and are considered the sweetest variety. Perfect! High in vitamin A, C, Manganese, and fiber, persimmons can eaten be as fruit (duh), thrown into salads, pureed for cakes and breads, or even frozen and eaten right out of the skin. Super ripe ones have a custardy flavor that only intensifies when cold and congealed a bit inside. You can also use the Hachiya variety, as my recipe inspiration suggests. They're all just really so good, so go for it!
There were a lot less persimmon recipes out there than I imagined, but it wasn't difficult to find a recipe to emulate. A quick search directed me to David Lebovitz' version of James Beard's persimmon bread (duh, again). I did little to improve upon the recipe, but I used less persimmon and left out the nuts to make my incarnation of persimmon bread here.
Much like a pumpkin or banana bread, this persimmon bread sets itself apart with its warm, custardy flavor, with hints of cinnamon, and a slight taste of bourbon courtesy of a (liberal) splash thrown into the batter. Perfect for chilly mornings whether you're running out the door, or are lucky enough to be able to savor it with your morning coffee at home.
Ingredients
3 1/2 cups all purpose flour
1 1/2 tsp salt
2 tsp baking soda
dash of nutmeg
2 1/4 cups sugar
1 cup of unsalted butter (melted and cooled)
4 eggs (beaten lightly)
1/2 cup bourbon/whiskey
1 cup persimmon puree (4 fuyu persimmons)
Grease and flour 2 loaf pans and set them aside. Set the oven to 350 degrees.
Peel the persimmons and cut up or just scoop out the flesh of the fruit. Puree in a food processor just until smooth and broken down.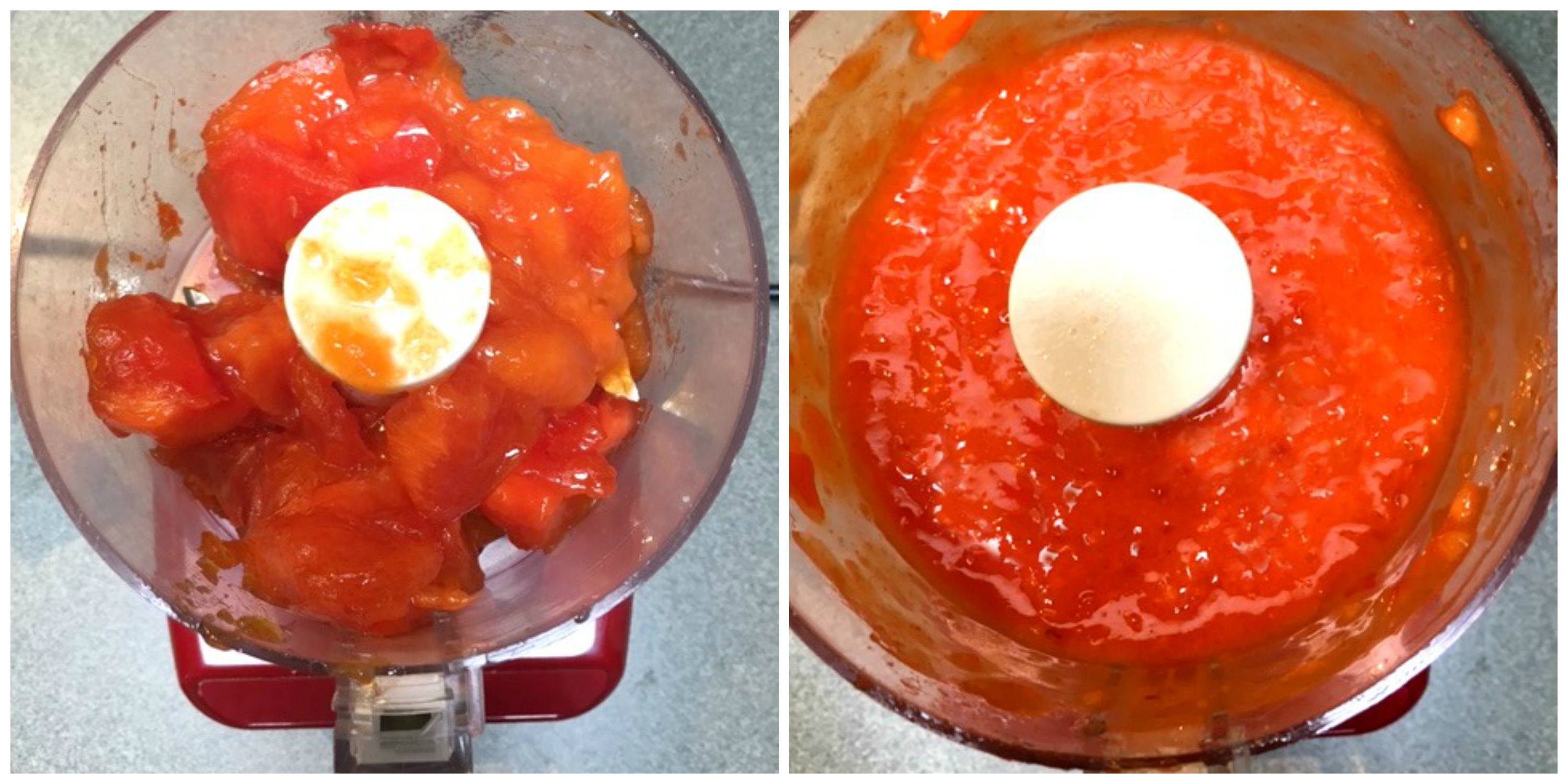 Sift the dry ingredients together (flour, sugar, nutmeg, salt, baking soda). Make a well and add the wet ingredients (persimmon pulp, eggs, melted butter, and bourbon) into the dry ingredients.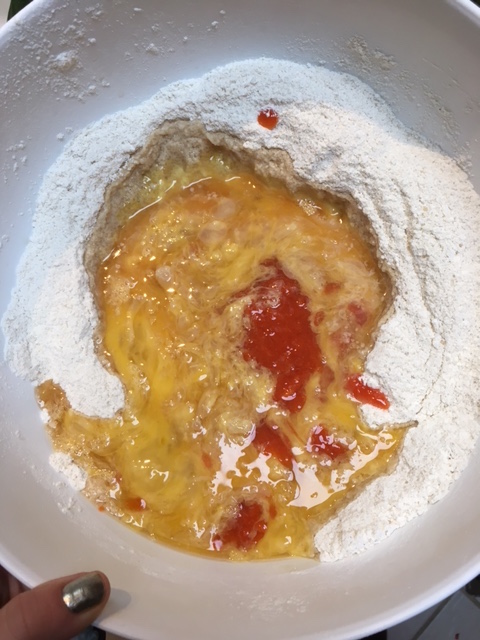 Mix well to combine and pour into your prepared pans. I LOVE ONE BOWL BREADS!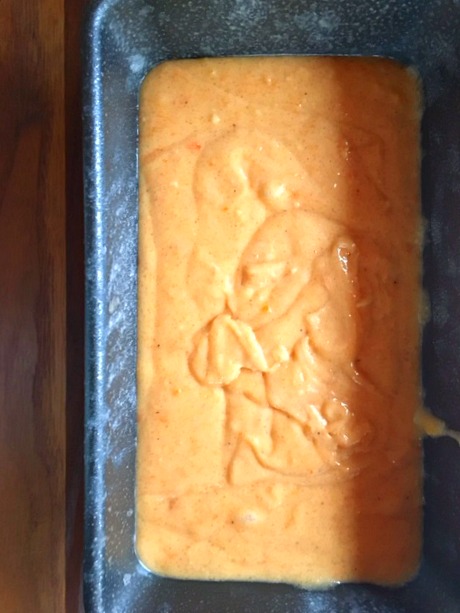 Bake for 45-55 minutes, testing with a toothpick to check for doneness.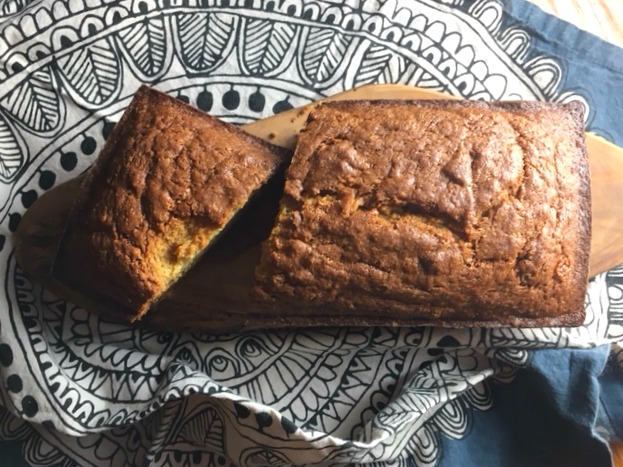 Wrapped in plastic, the bread will stay fresh for up to a week.
Go ahead and take advantage of these beauties while they're still in season!