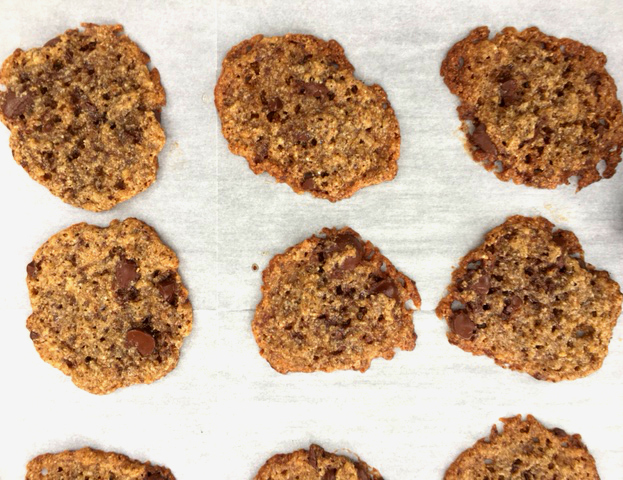 Hooray!!! I'm back! The wait is over! The Sunny Table is back and better than ever!
So much has happened over the last few months! The biggest of which was a move across the country, so now The Sunny Table is coming at you from sunny, southern California! We are absolutely loving life out here, and now that we're settled, I am finally able to get back to this poor, neglected blog. I know you, my throngs of readers, have been dying for your sunny table posts, and I am so happy to be back! After a complete makeover, The Sunny Table is ready to go as I start this next chapter of my life, cooking and baking out here on the west coast.
I figured that it was only fitting that my first post back reflect my new California lifestyle. So, brace yourself… these organic, gluten free, chocolate chip cookies are like, totally awesome. Like, seriously. They are. Hahaha I promise you, though, I haven't gone completely Californian just yet. I will still be making my signature, fattening, carb-laden faire, but you know I'm all about that balanced life so here we are.
Now, I never imagined I'd be making, let alone EATING AND ENJOYING a gluten free cookie, but then I tried a cookie that tore down my walls and opened to me to the possibility of what a gluten free chocolate chip cookie could be! Without the chocolate chips, this becomes vegan AND gluten free, but lets not get too crazy just yet. My inspiration comes from a cookie that LA baker 'Coco Bakes' makes, so I made a note of the ingredients, did a little research and stumbled across this recipe from Coco herself. What resulted were cookies that are incredibly delicious and (kinda) good for you!! Now, this cookie still has a lot of sugar… and fat, but it's most definitely the good fat, so that can't be bad, right? Like, the fact that you could make these for your kids, and they'd be getting FIBER?! and good fat from a cookie? Can't lose. And again, they're DELICIOUS! They are at once crispy and chewy, and they remind me of florentine/lace cookies, which are one of my all time faves. Please trust me and give these a try! If you know me at all, you know that I wouldn't make my first post back about just any old cookie, so that's gotta count for something!
A few notes…
The recipe does call for a few specialty ingredients, namely Grapeseed oil, ground chia seed, almond meal, a whole vanilla bean… but don't let that scare you! These are readily available at Whole Foods, Erewhon, and other organic markets. Grapeseed oil is actually a delicious, healthier oil for sautéing veggies, so you can easily find a use for the rest of the bottle. Of course, you will probably just want to make more of these cookies, though.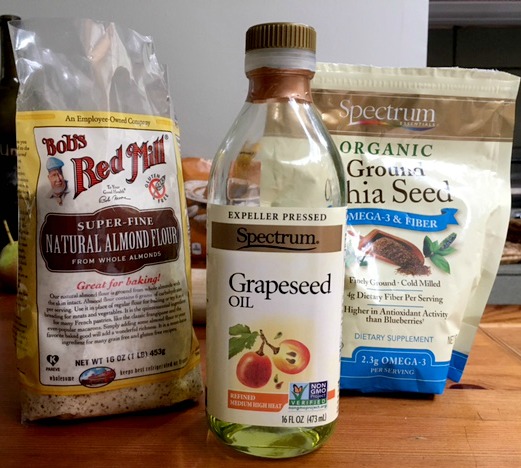 This recipe calls for 1/4 cup of sugar and 1/4 cup of brown sugar. I was out of brown sugar when I made these, so I made my own using 1 cup of sugar and mixing in 2Tbsp of Molasses (I only used 1/4 cup of that mixture and saved the rest for future use, but this is the ratio for substituting so I didnt want to mess with that). This made a very wet brown sugar that I think contributes to the amazing "gooey" factor of this cookie. So if you're up for it, make your own brown sugar this way!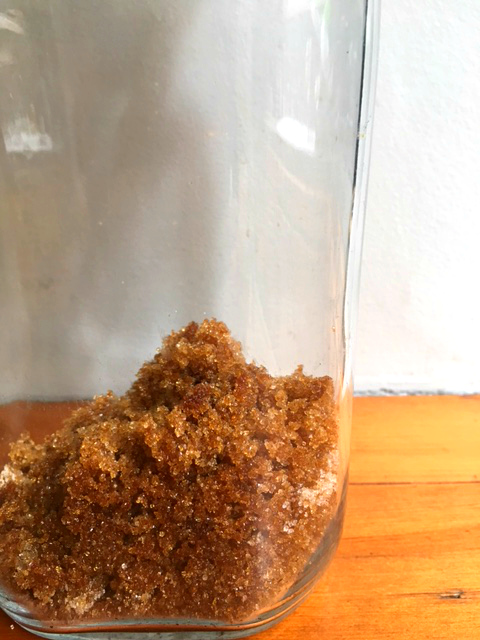 I also used this nice little trick for using ground chia as a substitute for an egg. 1 Tbsp of ground chia seeds mixed with 3 Tbsp water equals 1 egg. So there you have yourself a vegan, egg substitute for baking that really works!
Ingredients
3 0z grapeseed oil
1/4 cup sugar
1/4 cup brown sugar *(see note above to make extra gooey brown sugar)
Ground Chia Seed egg substitute (3Tbsp water mixed with 1 Tbsp ground chia seed)*see note above
1/2 tsp sea salt
1 Vanilla Bean (or 1 tsp vanilla extract)
3/4 cup almond meal/flour
1/2 tsp baking powder
heaping 1/4 cup bittersweet chocolate chips
Preheat the oven to 325 degrees and line a cookie sheet with parchment paper.
First, combine the water and ground chia seed and set aside.
Next, combine the oil, sugar, and brown sugar.
Add in the chia seed mixture and the sea salt. Slice open the vanilla bean, scrape the vanilla from it and add that to the bowl. Mix well. You can also use vanilla extract, but I didn't want to add any more liquid to the already liquid-y/loose batter, so I just went with the bean.
Finally, add the almond meal and the baking powder.
Stir everything together, and stir in the chocolate chips. So easy!
I used larger chocolate chips, and I gave them a quick coarse chop so they wouldn't overpower the cookie in every bite.
Drop them by the teaspoon full onto a parchment lined baking sheet, giving them some room to spread.
Bake at 325 for 14 minutes. Let cool for 1 minute and transfer to a wire rack to cool. The cookies will harden up a bit as they cool.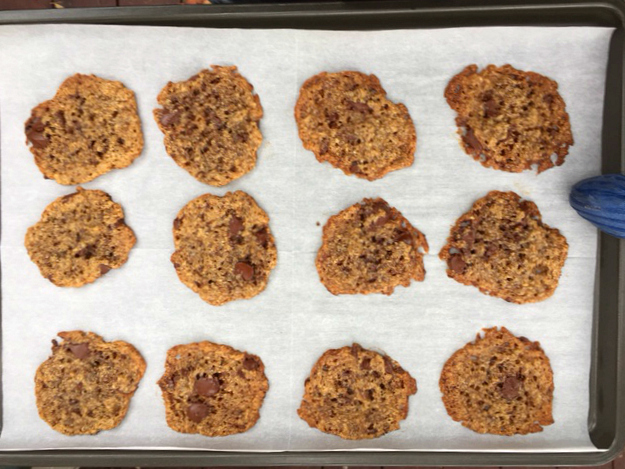 These are so, so good. Could they replace your non vegan, non gluten free, staple chocolate cookie? You be the judge!