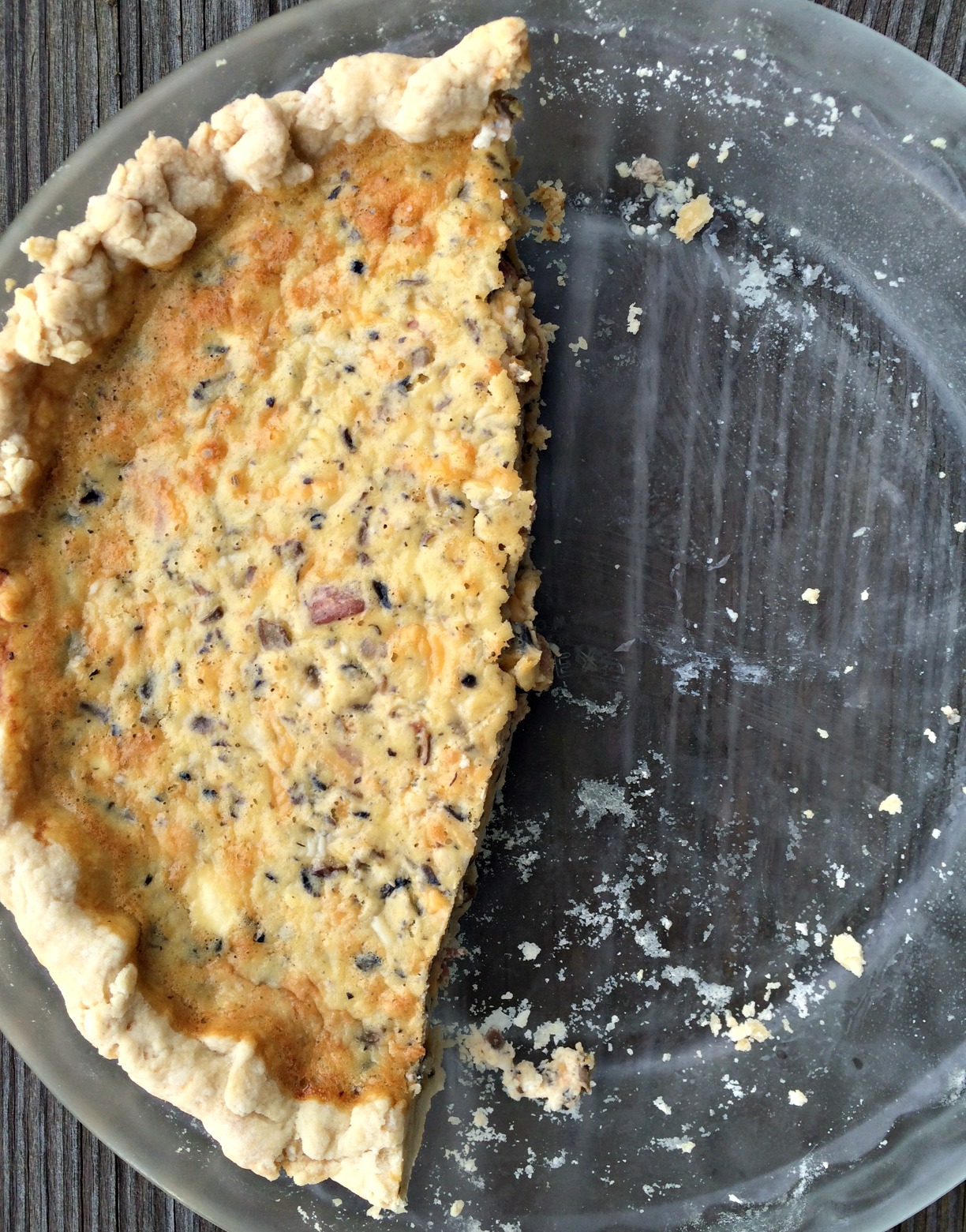 I love quiche. It's one of my favorite things. It's the perfect breakfast meal…savory, cheesy, eggy, crusty perfection. I often find, though, that it is sub-par at restaurants and bakeries alike. This always annoys me, because I think that making a really good quiche is amazingly simple. You can alter the veggies and meats, and as long as you have a good base, it will always turn out well! Quiche makes a great brunch dish, and is a great dish to bring over somewhere. You can make it the night before and reheat it in a pinch. You can even eat it for lunch or dinner. It also serves as a sneaky vessel for getting 5 year olds to eat veggies they might not otherwise consider.
My favorite combination for this quiche is swiss cheese, bacon, mushrooms, and shallots, but you can easily leave the bacon out and change everything else around. The key is to sautée and season those veggies first, since so much of the quiche's flavor will be coming from them. I've substituted chopped spinach, red and yellow onions, and tried different variations of cheese and had equal success. Experiment! But this combo is savory, rich, and hearty, and provides you with everything a quiche (in my humble opinion) should be.
You can make the crust or use a pre made one- just make sure to "blind bake" it which just means cooking the pie shell unfilled (with pie weights or uncooked beans in it to hold it down in the center) at 375 for 15-20 minutes at so that the pastry crisps up and provides a crunchy base for your quiche. Otherwise, you will have a soggy bottom quiche, and no one wants that. Set the cooked pie crust aside until ready to fill.
Ingredients
8 oz container of sliced mushrooms
2-3 shallots chopped (or about a 1/4 of an onion chopped)
splash of sherry/brandy
4 slices of bacon
5 eggs
8 oz shredded cheese
3 oz cream cheese (softened)
1/3 cup heavy cream
olive oil
salt and pepper
pinch of thyme
Heat the oven to 375 degrees.
Heat 2 Tbsp. of oil in a pan and then sauté the chopped mushrooms and onions for about 10 minutes. The mushrooms should be getting nicely browned and the onions should be translucent. During this time, you should add the thyme and a little salt and pepper to taste. I usually add a few more drizzles of olive oil as this cooks. At the 10 minute mark, add the splash of sherry or brandy. Let the mushrooms and onions cook for about 3-5 more minutes to soak up all that flavor. Once done, set this aside to cool.
Next, cook the bacon until crispy and then crumble it up into small pieces.
Now that you have your bacon and mushroom mixture ready to go, crack 5 eggs into a bowl, add the softened cream cheese, 1/3 cup of heavy cream, and the shredded cheese. Then add the cooled mushroom mixture. Mix everything together and pour into you pre-baked pie shell.
Cook at 375 for 35-40 minutes and serve up slices once the quiche has cooled a little.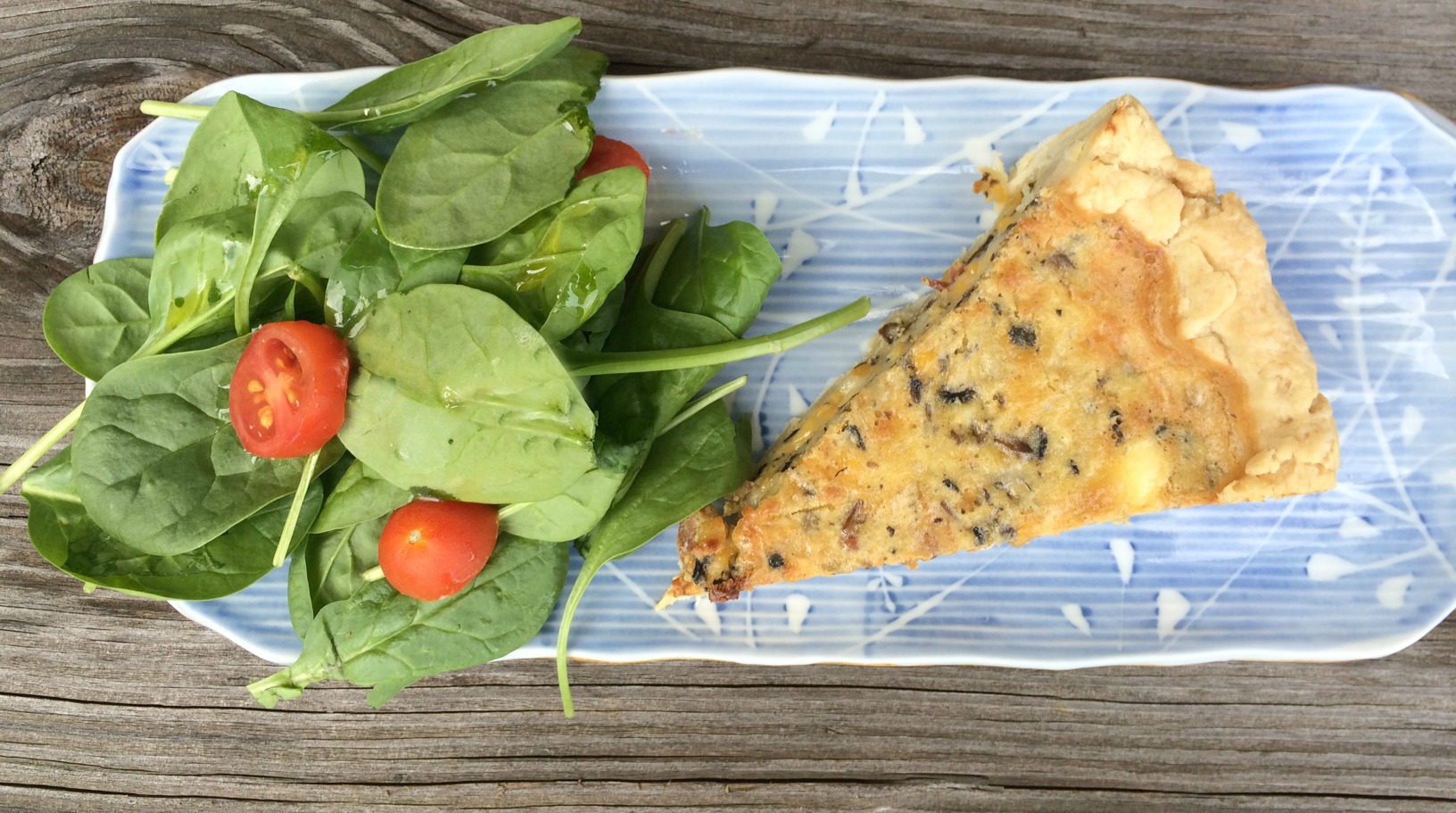 Go ahead and spoil yourself! Make this mushroom bacon quiche today for breakfast, brunch, lunch, or linner!