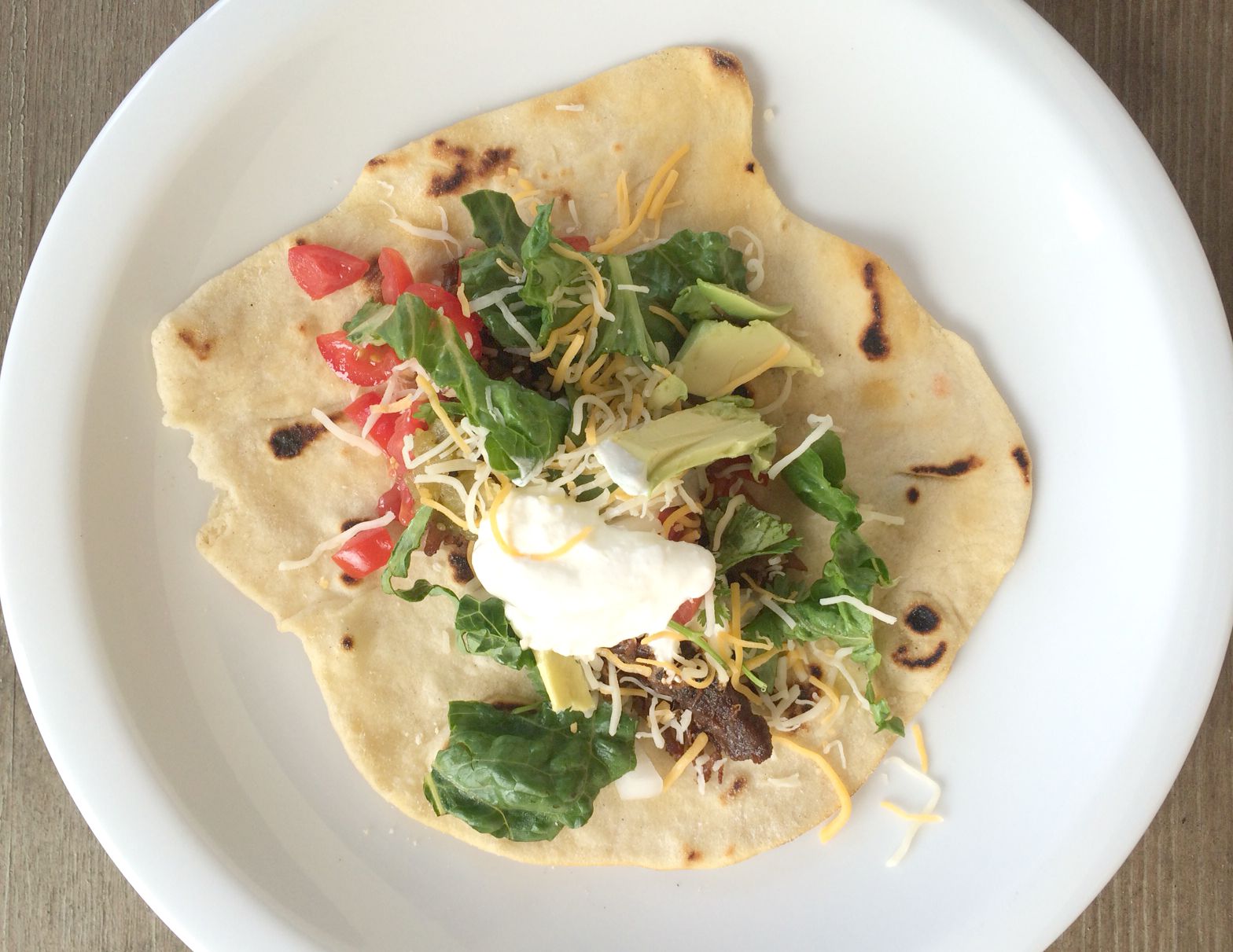 Earlier this summer, I made a Mexican feast. I mean I made my own tortillas and everything. It was awesome. This is not an easy weeknight dinner, but rather something to make when you have some time on your hands. You could certainly prep it on the weekend and then have it for dinner during the week.
Sometimes on the weekends, I find myself looking for things to make that are a little more involved, especially if we're entertaining friends. So, I decided to embark on this carnitas adventure. While it may seem complicated, these are not hard to make. They do take a lot of time, but a lot of it is down time, I promise!
For the Tortillas
I've tried to make my own flour tortillas before, but I never really got the right combo of lightness and heartiness that allows you to fold it softly without it cracking yet staying strong enough to hold lots of stuff inside. Finally, after many disappointments, I found this recipe on a lovely blog I stumbled upon…The Café Sucre Farine. They tout them as the "best ever homemade tortillas" and they just might be! Don't let the process deter you.These are totally worth it! They keep well and you can make a bunch in one day and use them as desired for tacos, wraps, and even pizza crusts.
Ingredients
3 cups flour
1 tsp salt
1 tsp baking powder
⅓ cup canola oil
1 cup warm water
First, combine the flour, salt and baking powder in the bowl of a stand mixer. Using the dough hook, mix the dry ingredients until they're combined well. Next, with the mixer running at medium speed, add the oil and water and mix for 1 minute. Scrape the bowl sides when necessary. When the mixture comes together and begins to form a ball (about 1 minute), turn the mixer to low speed and continue to mix for 1 more minute or so until smooth.
Dump the dough out onto a floured surface. Divide it in half, then in half again. Continue dividing the pieces until you have 16 pretty equal pieces. It is important to roll each piece of dough into a ball and flatten it with the palm of your hand into a small disc. Add a little flour if its too sticky, but this recipe made a perfect consistency dough for me. Arrange the discs of dough on baking sheets and then cover them with a kitchen towel. Let them rest for 15 minutes.
After they've had time to rest, heat a large DRY stainless steel (not nonstick) pan over medium-high heat. This is the step I've always gotten wrong. I've always added oil to my pan thinking it would be wrong to cook on a dry pan, but now I realize this is what makes it become a soft tortilla! This was a huge breakthrough for me. So on a floured surface with a rolling pin, you roll each dough disc into a circle, about 6-7 inches in diameter, trying to get it super thin. Turning the dough around as you roll it out ensures a better circle shape.
When the pan is very hot, place the tortilla into the pan and allow it to cook for about a minute until there are a few light brown spots. The top will start to show a few small bubbles.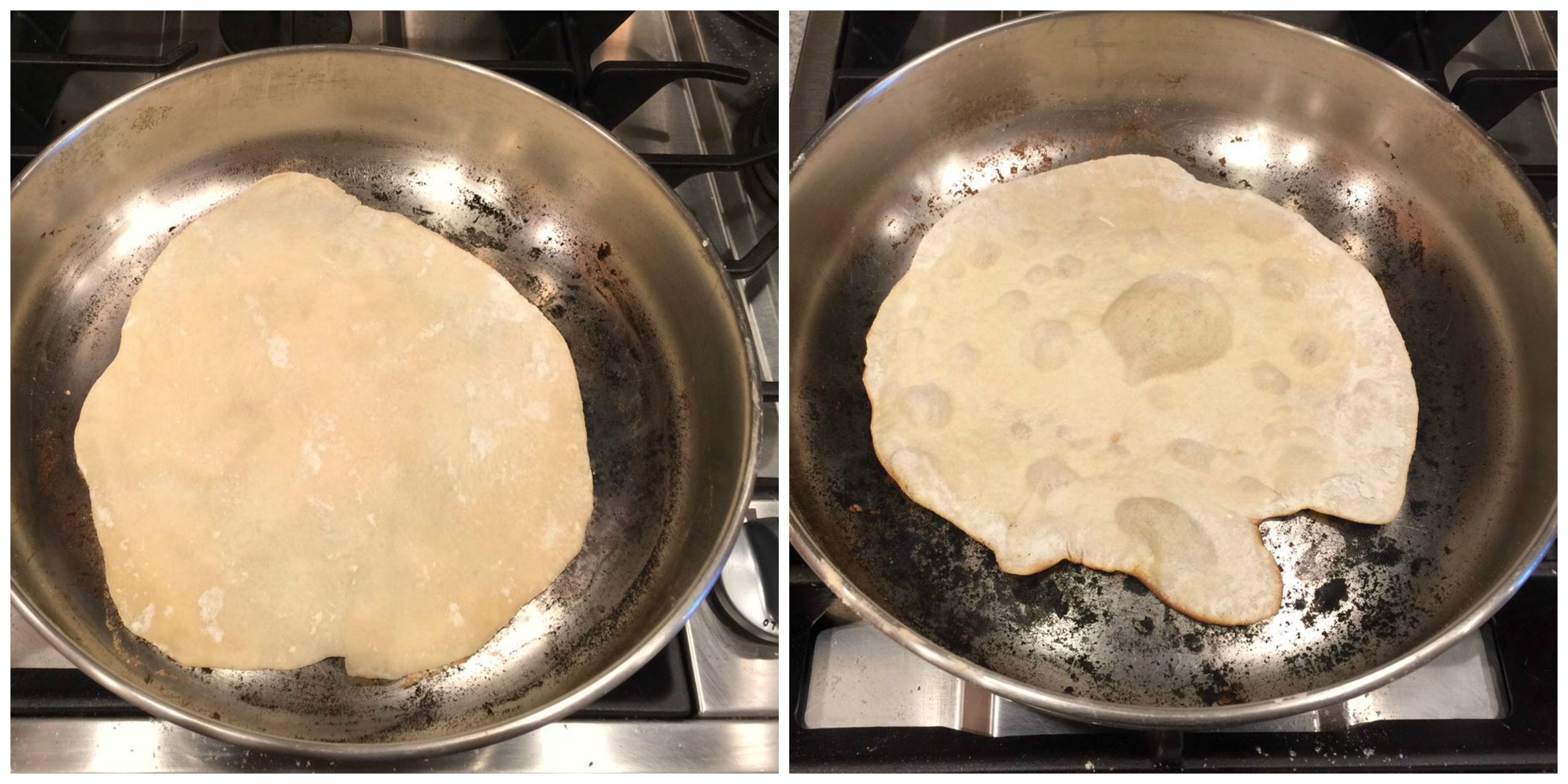 If it's getting too brown too fast, lower the heat a little. Flip the tortilla over and cook for about 30 seconds more until you see a few more brown spots on that side. Remove from the pan and start piling them up. You can keep them in a Ziploc bag until you are ready to serve them. Now you're ready for the next tortilla! You may need to wipe the pan clean in between each one in case burnt bits start to stick to the pan.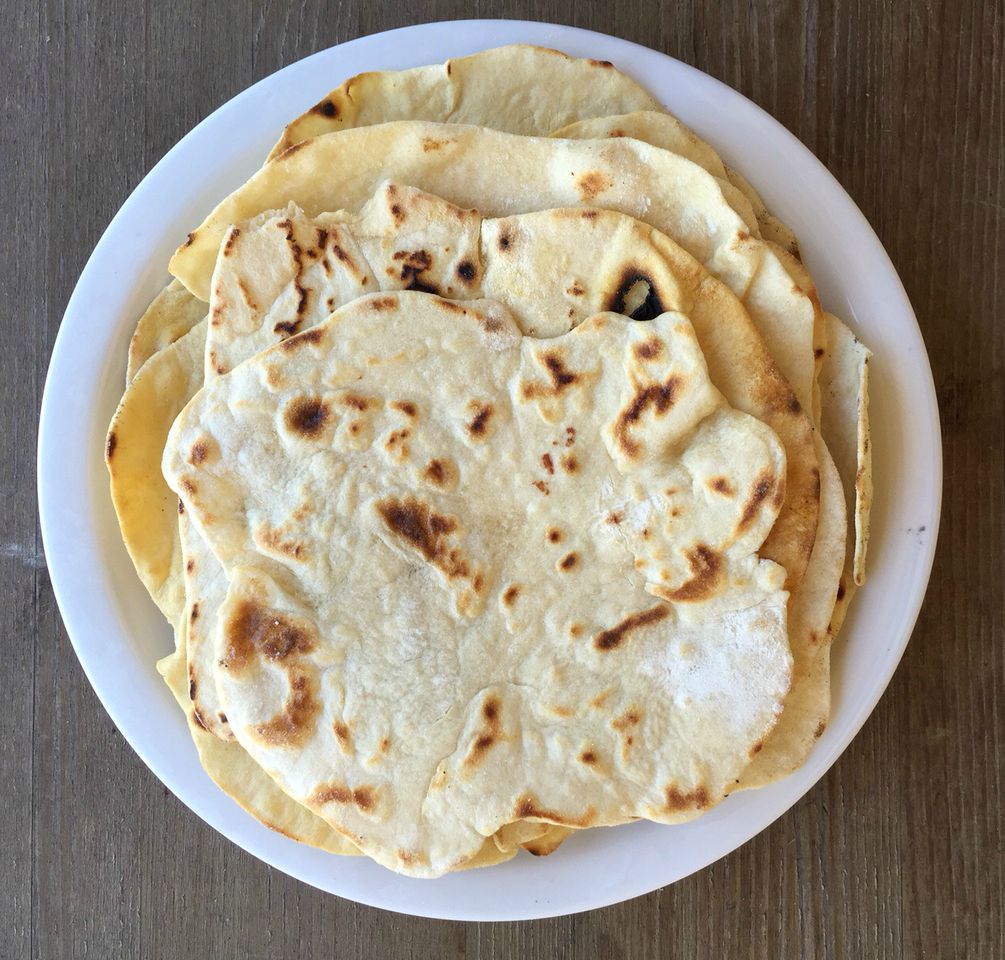 You are now ready to fill these babies. Look out.
Carnitas
So carnitas just means "little meats" and traditionally this meat filling is made with pork that has been braised and roasted for a while so that the meat falls apart into these little shreds and bits of deliciousness.
This recipe makes the best pork carnitas I have ever tasted. You must use the duck fat! Do not be scared! You can get it at Whole Foods and it's what give this pork its caramelized edges and depth of flavor.
Ingredients
4 pounds boneless pork shoulder with fat
1/4 cup duck fat
1 Negra Modela beer
2 clementines, tangerines, or small oranges, quartered
1/8 cup brown sugar
Salt and pepper
First, remove the outside fat from the meat and cut the fat into small 1 inch strips. You are going to fry this fat in the duck fat. I know, I know, but stick with me here. Not only does this give you a couple of chicarrones (pork rinds) for an appetizer but this further flavors the fat that you are searing the pork in. yum.
Next, cut the meat into 2″-3″ inch chunks and set aside.
In a sauté pan, heat the duck fat over medium high heat. When the duck fat is hot, add the fat pieces and stir. Allow them to cook over medium to medium high heat, they should be cooking at a slow sizzle. Allow them to brown slowly, over a 7 to 10 minute period, the oil should not be smoking hot. When they are golden brown and crispy, use a slotted spoon to remove the fat from the pan, move to a paper towel and season with salt (if you want to eat them that is…which you do.)
Thoroughly salt the pork pieces and place them into the hot fat. Cook over medium high heat and brown on all sides until they are a deep golden brown, probably about 15 minutes.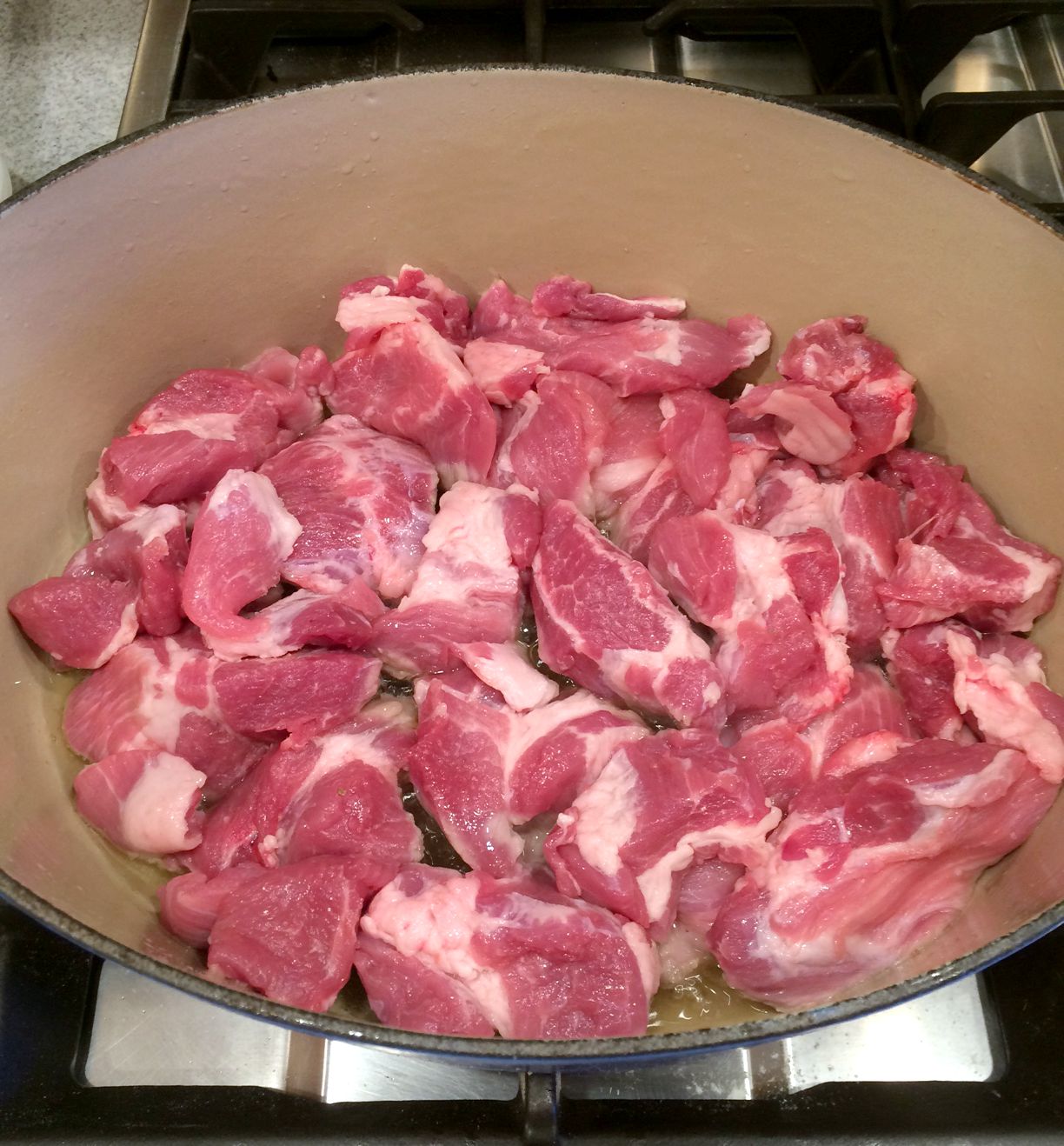 When the chunks are a deep golden brown on all sides, turn the heat off and let it sit for 5 minutes.
Open the beer and take a big sip of it (bonus!) and then add the rest of bottle to the pan. Add the oranges and brown sugar to the pot. Stir it all together and bring it to a simmer.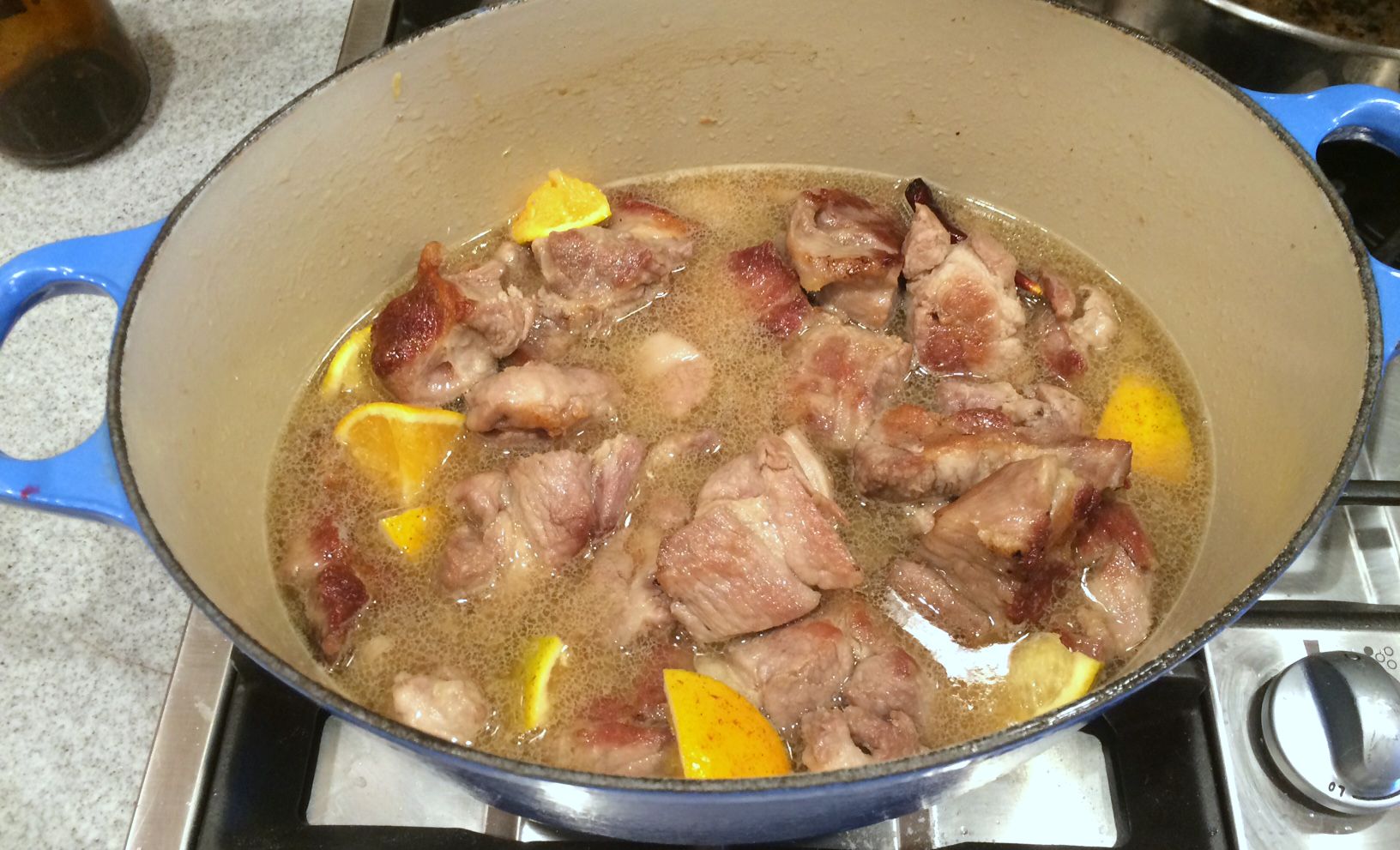 Once it is simmering, cover the pot and cook at a low simmer on the stovetop for about 2 hours, or until the meat is falling apart.
When the 2 hours is up, shred the meat with a fork, use a slotted spoon to spoon it out onto a plate, and start making your carnitas tacos!
I served these up with a bunch of fixings like, guacamole, sour cream, shredded cheese, crumbled queso fresco, diced tomatoes, sautéed peppers and onions, fresh cilantro, and salsa verde. Needless to say , there will be a lot of dishes in the sink after this meal, but the dish washing will help ease you out of the food coma.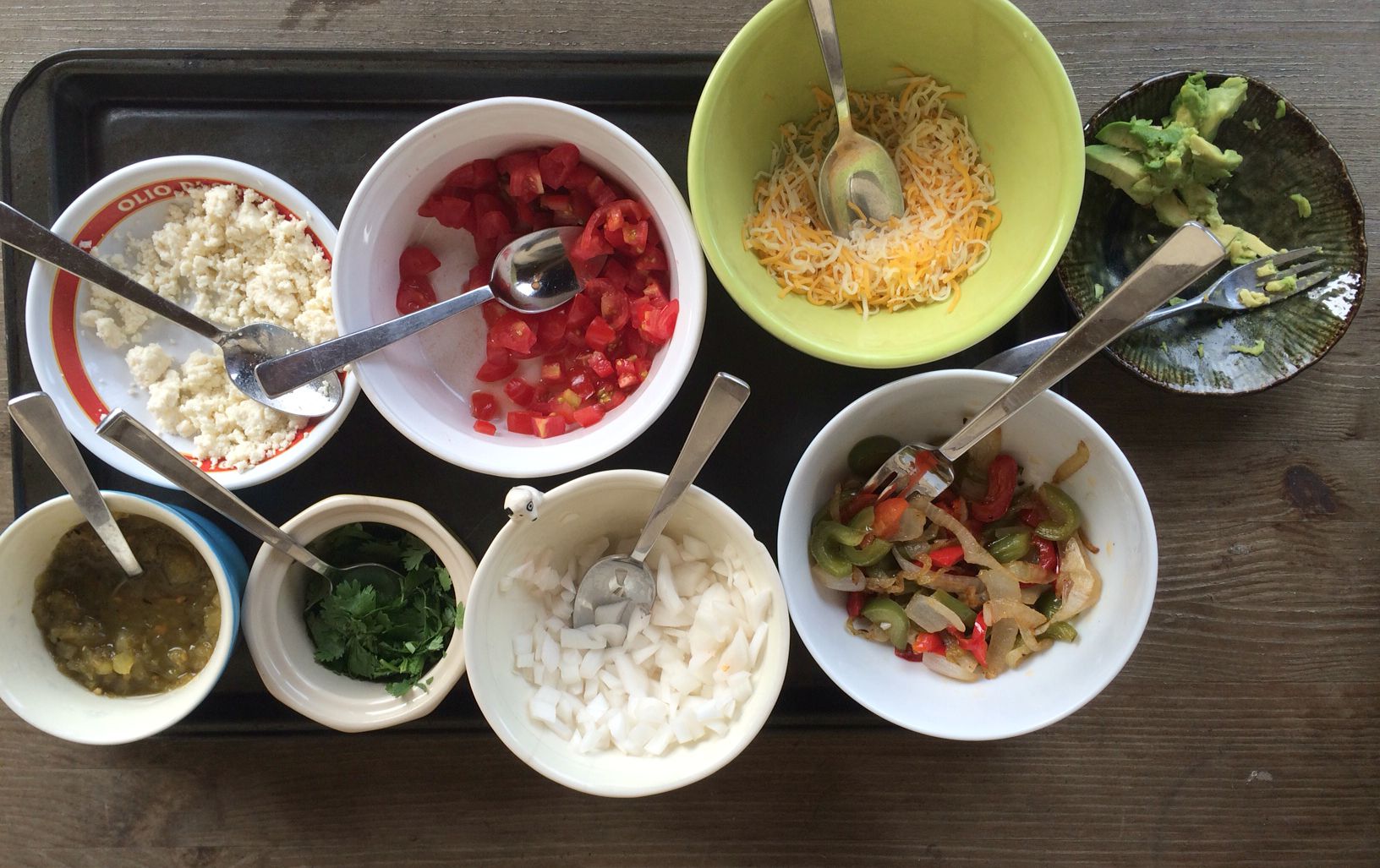 I let the guests serve themselves and doctor up their tacos however they wanted to, experimenting with different combinations of toppings and salsas. This was a big undertaking for sure, but the rave reviews made it all worthwhile.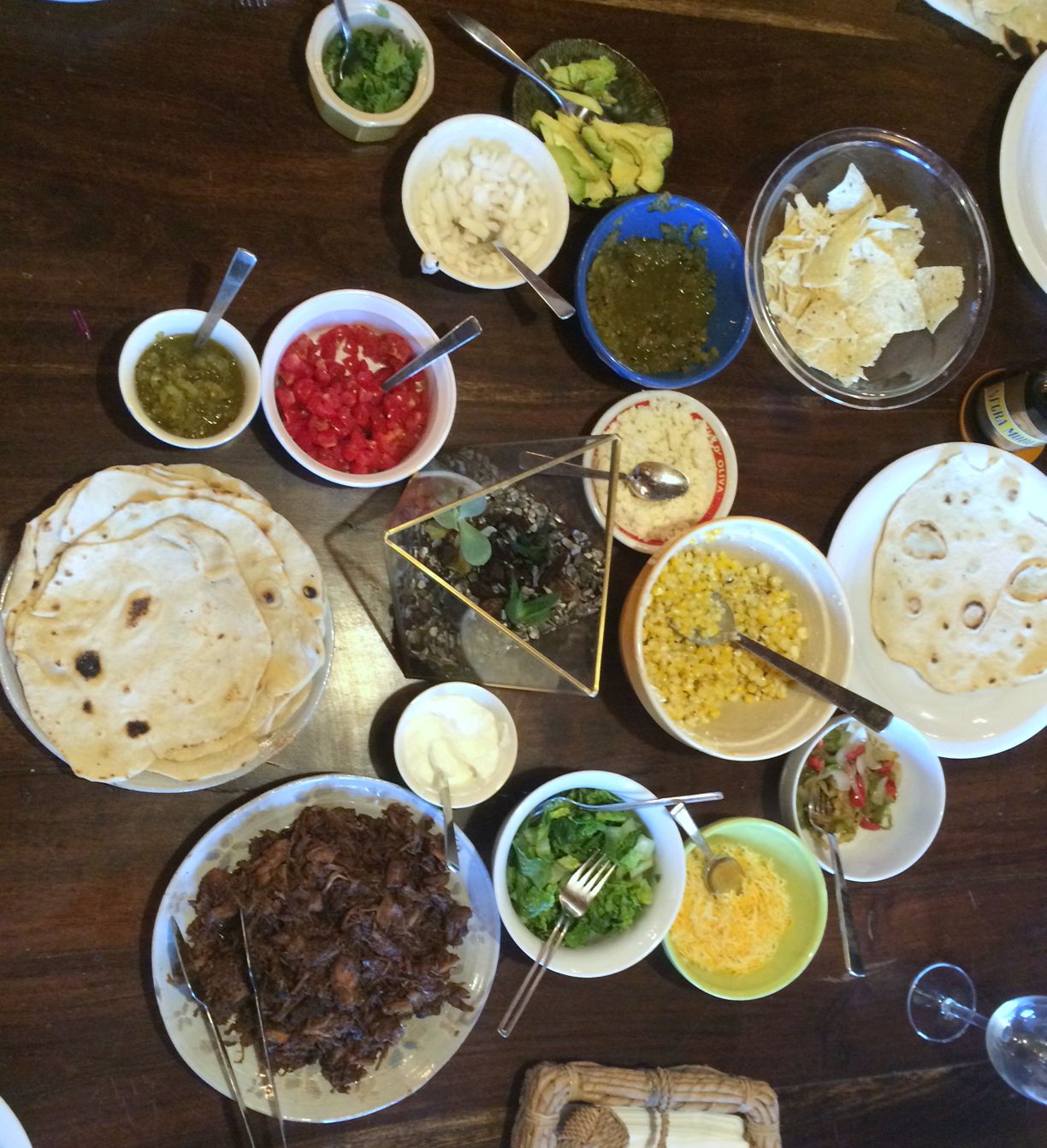 Next time you want to go all out, make this feast! You won't regret it.