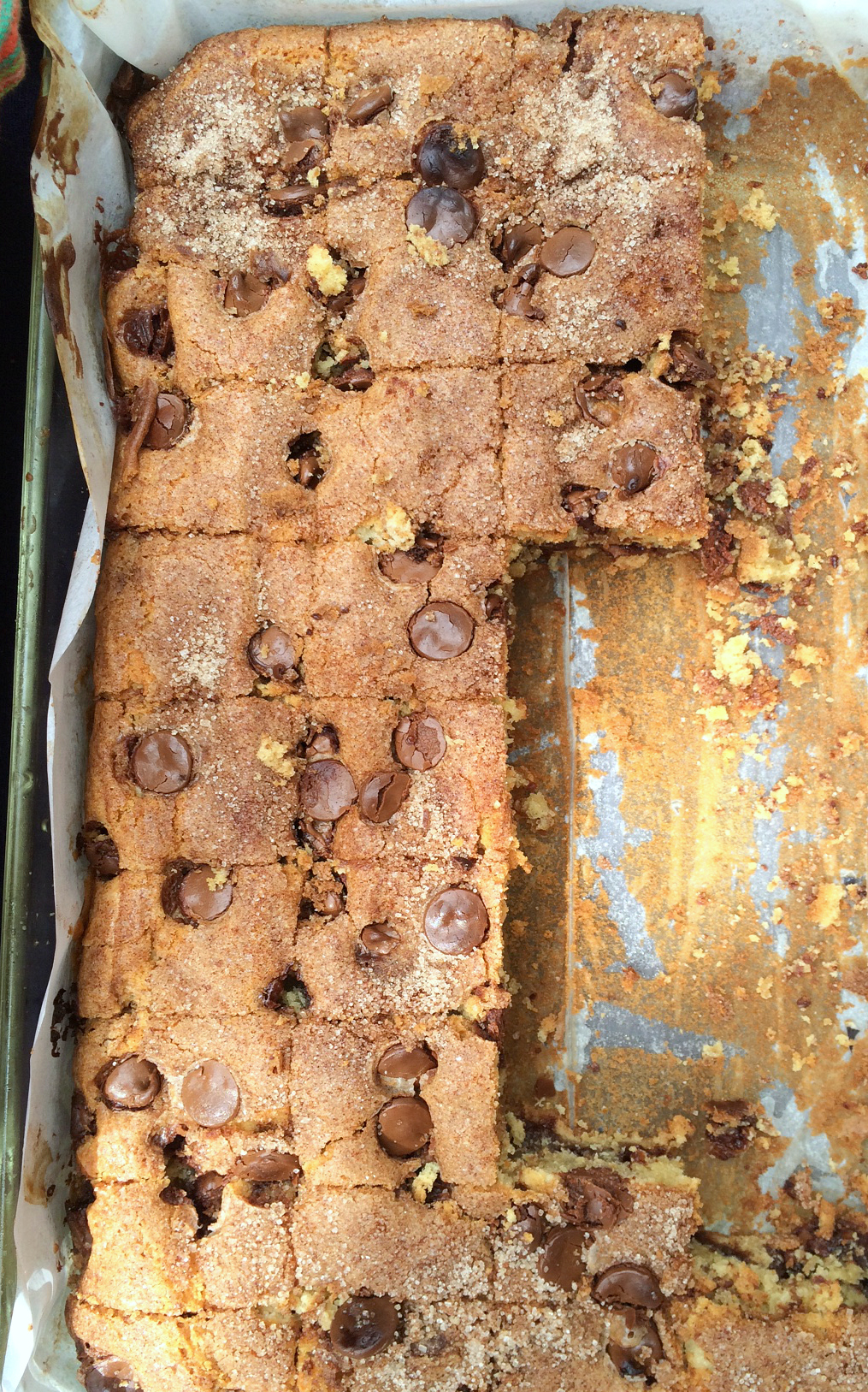 This past weekend, some friends organized an Easter brunch at one of our small Miami neighborhood parks. It was complete with a parade walk to the park, egg hunt, sack races, and a pot luck lunch. The kids had a great time, and there's always something nice about these simple, old-fashioned fun kind of parties. It was a gorgeous day and a great opportunity to slow down, reconnect, and of course eat delicious food! I brought a simple chocolate chip coffee cake that I made that morning, after realizing I didn't have time for anything more extravagant. I often find though, that these simple comfort food baked goods make people happier than an intricate dish that you slaved over for hours. I didn't get to snap a pic before it was half eaten, but this just shows how yummy this cake was and how perfect it is for a large crowd.
I'm lucky to have friends that love good food as much as I do, so the pot luck table was pretty impressive. Decadent Quiche, homemade muffins, fried chicken, gorgeous fresh fruit, salads, bagels and crusty breads. While the kids were busy running around shoving candy in their mouths, the parents hovered around the table devouring the good stuff.
Ok, so now for my cake. When I'm in a pinch for a great recipe, I look to none other than Smitten Kitchen, and I have adapted this recipe from hers here. Mine has more butter (shocking I know) and milk chocolate chips instead of semi sweet.
Makes a 9″x13″ cake.
Ingredients
2 sticks of unsalted butter (softened)
1 1/2 cups sugar
3 eggs (separated)
1 1/2 tsp. vanilla
2 cups sour cream
3 cups of flour
1 tsp. baking powder
1 1/2 tsp. baking soda
3/4 tsp. salt
For the filling and topping
2 cups of large milk chocolate chips
1/2 cup sugar
1 tsp. cinnamon
Heat the oven to 350. Butter a 9″x13″ glass baking dish. I layer mine with a sheet of parchment paper as well for easy cleanup.
In a stand mixer, cream together the butter and sugar until light and fluffy. Next beat in the egg yolks and the vanilla. Sift the dry ingredients together. Switch off between adding the sour cream and dry ingredients to the butter/sugar mixture until it is all mixed together and looks creamy and thick. Next, beat the egg whites by hand until they are pretty foamy. Gently fold them in to the mixture for a little extra fluff.
Combine the cinnamon and sugar and set aside.
Pour half of the batter into the baking dish. Sprinkle about half of the cinnamon sugar mixture and half of the chocolate chips on top of the batter. Spoon the remaining batter on top and spread it out so its flat. Sprinkle the remaining sugar cinnamon mix and chocolate chips on top. You may want to push the chips down a bit just so they stick into the cake slightly. I really like milk chocolate chips here, even though the original calls for bitter or semi sweet. I prefer the taste of milk chocolate with this and the larger chips ensure even more chocolate goodness.
Bake for about 45-50 minutes, let cool, and enjoy!