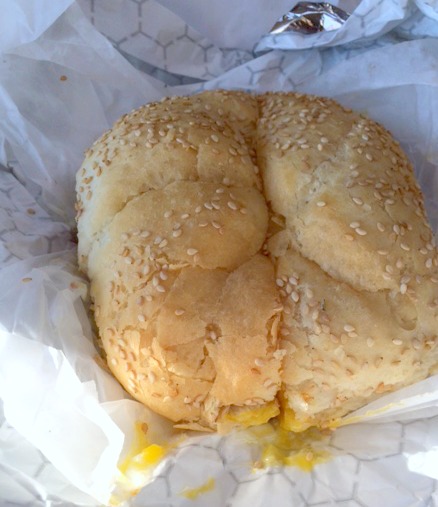 [no recipe here…just my ranting]
I don't miss that much from my life on Long Island (except you mom and dad!, of course), but if I had to choose one thing, it would be these babies….the bacon, egg, and cheese sandwich on a kaiser roll that is available in mass quantities at every bagel store within a 60 mile radius outside of NYC. Outside of that, it's pretty much hopeless. Yes, other deli's, bagel stores, and restaurants might have a similarly named item on the menu, but it never measures up to the standard I've grown up with and run for each time I'm home.
I can barely hold back the tears (and saliva) as I write about the crispy bacon, mixed with the runny over easy egg, and melty, gooey american cheese. What really makes the LI version of this so good, though, is the kaiser roll. It must be the same reason why NY bagels taste so much better than anywhere else. You can disagree with this, but you'd be wrong. Maybe it's the water? Who knows? But the softness and perfect salty sweet balance of the roll really brings this puppy home. I can barely wait until I go home for christmas just so I can eat these for like 7 days straight.